'A review of James Gillray: The Art of Caricature'
by Simon Turner
Tate Britain
The curator of last year's James Gillray: The Art of Caricature, Richard Godfrey, is a print man . The give-away was that so many prints were included with different states, proofs and suchlike. The inclusion of a number of Gillray s non-satirical reproductive engravings was also a good touch. They were all in fine condition with wonderful hand-colouring and had impeccable provenances. The Tate s exhibition was organised in association with The British Museum, and the majority of the prints were borrowed from the Department of Prints and Drawings, but others were loaned from the Library of Congress, Washington (formally the Royal Collection kept at Windsor Castle), from Andrew Edmunds and a number of private collectors. That Edmunds allowed his prints to be shown is very significant. He is the dealer par excellence in the field of satirical prints. He has been in the trade for many years and more or less dominates and buys only the very best items that come on to the market. Edmunds undoubtedly has the most comprehensive private collection in the world and sure enough the exhibition included a print from it that is likely to be unique, and something I had never seen before, called Icarus (no.68), made for an abandoned project.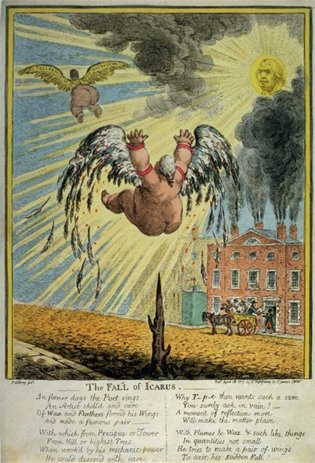 The exhibition also included a number of Gillray s drawings. Some of them were deeply disturbing and not aesthetically pleasing in the slightest such as the portrait of George Humphrey drawn when he was insane according to a pen inscription. However, they provided a remarkable insight into his approach and imagination. The furiously drawn and copiously annotated sketches are particularly characteristic, exciting and revelatory. Behind the invention of a print there was evidently intensive brainstorming sessions and numerous rehearsals. The miscellaneous sketchbook pages that also exist nevertheless reveal a calmer aspect. Gillray s biographer, the American cartoonist Draper Hill, recognised from the outset that his graphic output also included extraordinary drawings:
Gillray s artistic reputation rests almost entirely on published work. Conspicuously unlike the completed satires, these range from exquisite watercolour vignettes to uninhibited pen preliminaries .
Drawings by Gillray are rare. Those that survive derive from the everything must go auction held by E. Foster and Son at 54, Pall Mall on 13 July 1835, and on the three following days when thousands of coloured and plain prints, bundles of drawings, engraving tools, plates and even the shop fixtures were sold.
While Thomas Rowlandson s watercolours and etchings have been accorded considerable acclaim the vitality of work by Richard Newton (1777-1798) and others are also increasingly being appreciated. Nevertheless, Gillray's work is really on another level, so rich is it with political and social allusions and sheer artistry. It is increasingly recognised that he is a vital figure in the story of British art alongside such (eccentric) contemporaries as Blake and Fuseli as well as being a canonical figure in the history of social and political caricature and graphic satire.
The exhibition also dealt with Gillray s collaboration with Philippe-Jacques de Loutherbourg, a particularly interesting episode when he became a war artist. It was de Loutherbourg s intention to produce a grand scale history painting of the Battle of Valenciennes featuring the (briefly) victorious grand old Duke of York. In 1793, the two artists travelled together to Flanders and Gillray was employed to provide accurate portrait drawings and other sketches of the scene. The resultant enormous painting of the grand Attack is now in Easton Neston. It seems that Gillray got little credit, nor did he engrave the painting something that he could easily have done. Instead, there are two absurd stipple engravings by Gillray of two of the leading allied commanders, General Count Clairfayt and the Prince of Saxe-Cobourg. Gillray also collaborated with de Loutherbourg towards a second history painting that of the Glorious First of June 1794, a major maritime painting celebrating Lord-Admiral Howe s victory over the French. The painting is now in the National Maritime Museum and has unmistakable Gillray hallmarks and is a significant precursor to such patriotic paintings by J. M.W. Turner.
The exhibition catalogue by Richard Godfrey with a contribution by Mark Hallett is an admirable work of scholarship.