Do British political cartoonists have a sell-by date?
In his biography of the 19th Century Liberal Unionist politician, Joseph Chamberlain, Enoch Powell stated that all political careers, unless cut off in midstream, end in failure. Could Powell's dictum also apply to political cartoonists? Do these serial scribblers tend to go on well beyond their prime and suffer a loss to their reputation as a consequence? In most professions and in other areas of gainful employment, people generally look forward to reaching retirement age so they can leave behind the stress and drudgery of their daily working lives. For only in retirement can they then truly enjoy the time to saviour their family and grandchildren. They can also afford to take life at a much slower pace, whilst having  the time to benefit from valued pastimes and to travel to exotic locations far and wide. To visit places they never really had the time to properly explore during their working lives.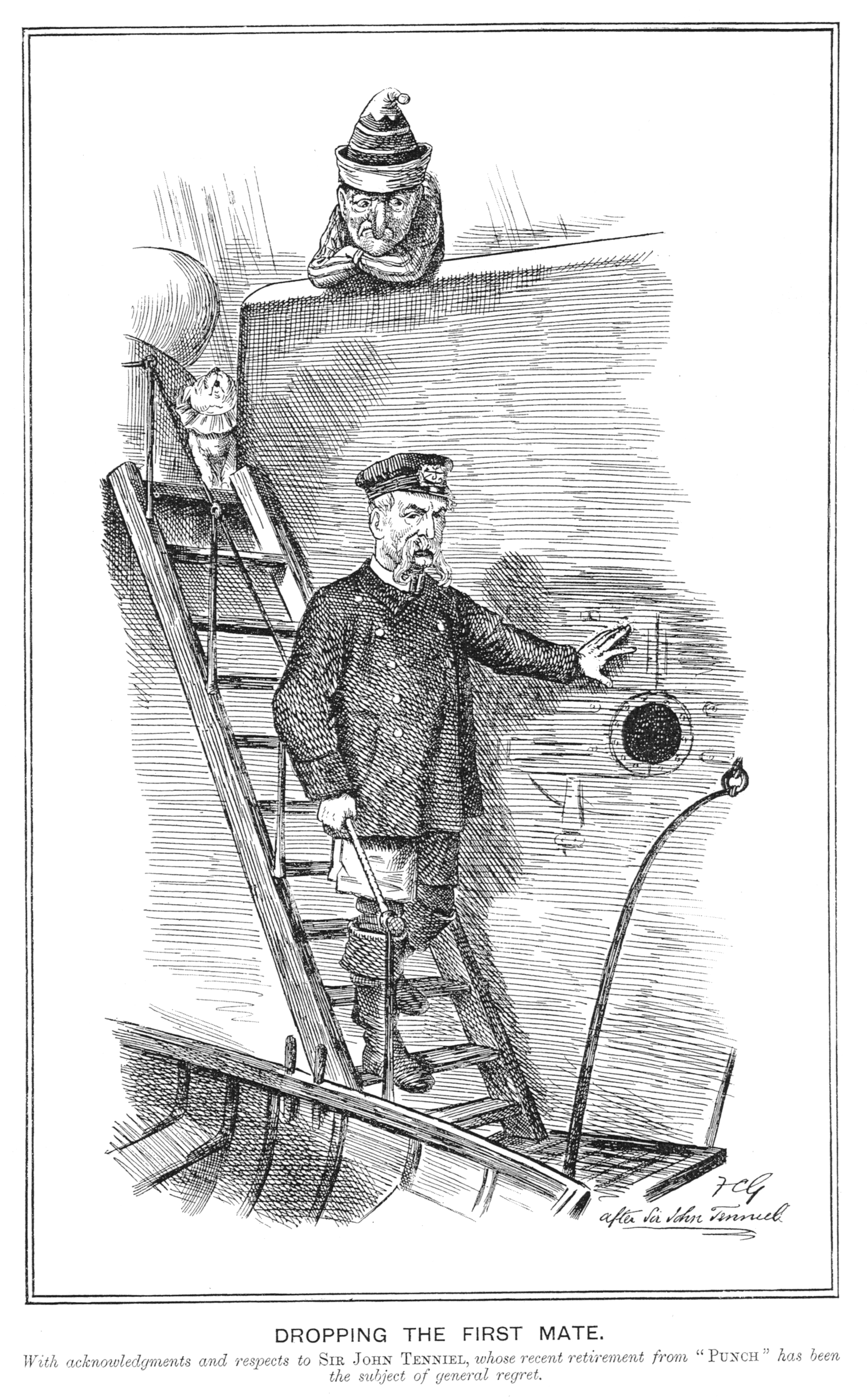 Sir John Tenniel left Punch at the age of 80 due to failing eyesight.
Upon researching the topic, this certainly does not seem to ring true when it comes to political cartoonists now or in the distant past. They, with the odd exception, prefer to carry on regardless of their declining powers of visual acuity that naturally come with the onset of advancing years. Why is this? The answer is that, for many, it has always been much more than just a job or a means to an end in order to provide for themselves and their loved ones. It is, to them, a calling. For being a political cartoonist is their one and only true vocation in life. To them, the simple enjoyment, satisfaction and constant challenge of using their considerable talents to produce topical political cartoons is how to put it, everything. For those that work at the offices of the Newspaper rather than at home, it is also the buzz, excitement and the camaraderie they experience from working alongside journalistic colleagues as the daily news continually breaks literally in front of them. Peter Brookes, for one, finds the excitement of being included and involved in the editor's early morning press briefings at The Times immeasurable. He is petrified that if he retires he will be sitting at home with his feet up missing it all terribly. I know of only two cartoonists who have retired of their own volition, that being John Musgrave-Wood who was better known by his pseudonym Emmwood and Leslie Illingworth. In August 1975, aged 60, Emmwood decided he had had enough of editorial cartooning, giving his reasons as "boredom with politics, senior personnel and editors who thought that they, being whizz kids, knew more about cartooning than cartoonists with forty years' experience." He subsequently left Britain and retired to Provence in France where he concentrated all his efforts on painting. 
In 1969, Leslie Illingworth also retired to live in France, but his retirement did not go to plan. By 1973, he had found himself not only short of money but also being chased by the taxman for back taxes. At first, he was given the opportunity to stand in for the Australian Paul Rigby on the Sun for a month between December 1973 and January 1974. Upon his return, Rigby felt sorry for Illingworth's plight and decided to give up his regular weekly political cartoon for The News of the World so that Illingworth could take over. However, in June 1976, Illingworth's unhealthy lifestyle caught up with him when he suffered a stroke. He had never held back on his liking for rich and fatty foods. He had once told Wally Fawkes at his dining table to "eat the fat, that's the best bit". Indulging himself in food and drink had contributed to the thickening of his arteries. Illingworth said that as a result of the stroke his "brain had gone" and he was no longer capable of producing a daily cartoon. Of today's cartoonists, only Christian Adams wants to retire and go and live in Spain. However, he feels he will never be able to afford to do so and admits he will just have to carry on until he is fired.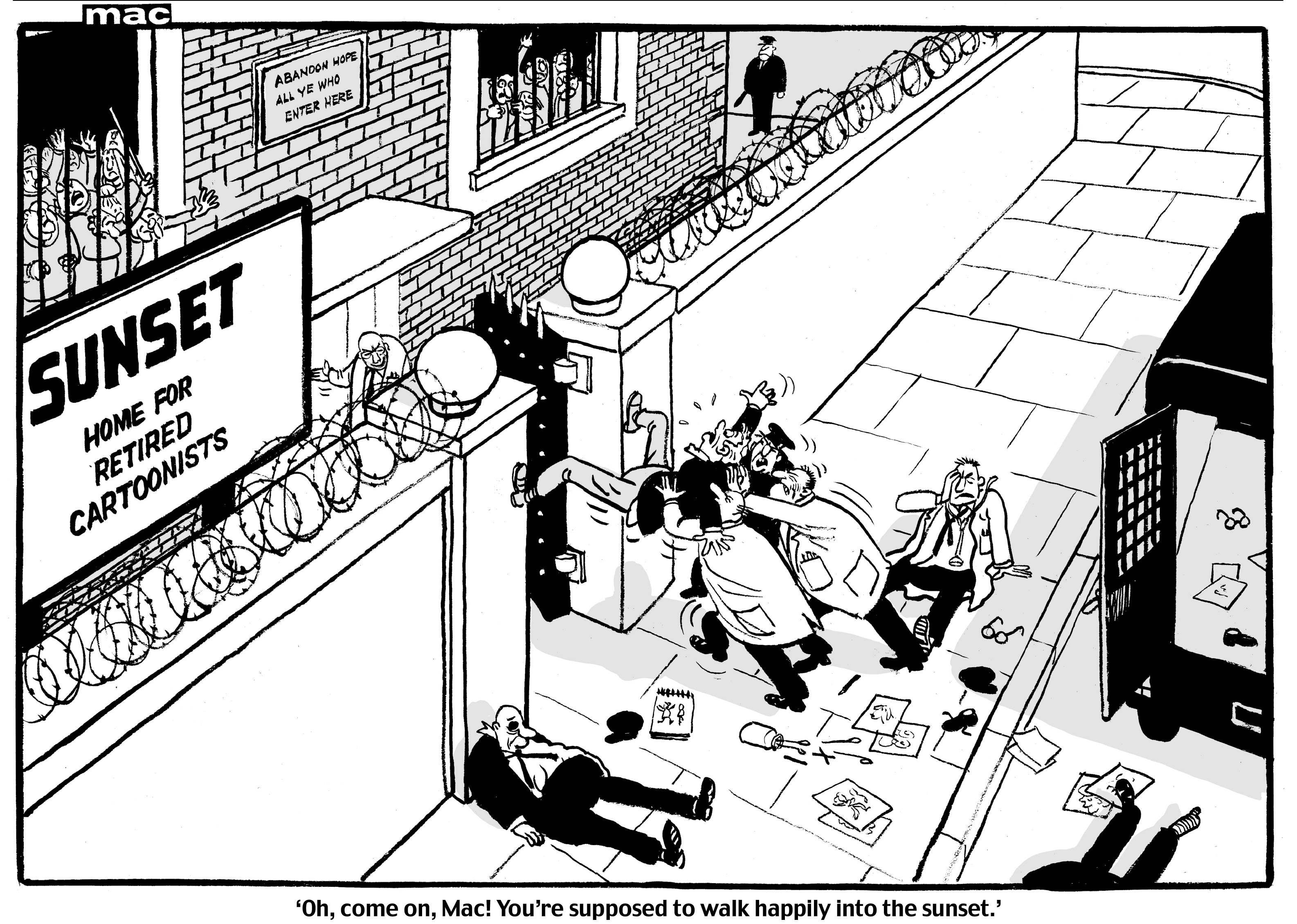 Mac was forced to retire and only did so very begrudgingly.
Today cartoonists fear that if they do retire there is no way back for them should they change their mind. When boxers retire they soon miss the adrenalin of the fight game and invariably also regret their decision to stop. However predictable, their comebacks are usually a disaster, as they tend to have lost the hunger and sharpness by the time they return to the ring, and end up just tarnishing their reputation forever. For cartoonists there are no comebacks as the opportunities for reemployment are slim to say the least. Once the decision to retire is made it is unusually set in stone. Stan McMurtry who very begrudgingly retired in 2018 at the grand old age of 82 after fifty continuous years on the Daily Mail, told a fellow colleague last year that he desperately misses sitting by the drawing board and confessed that it had been especially difficult for him not being able to comment on last year's general election and the machinations over Brexit. In 1981, Charles Schulz, despite being one of the wealthiest men in the United States, refused to retire even after undergoing quadruple-bypass surgery. Despite a later hand tremor and a diagnosis of colon cancer, he still refused steadfastly to give up doing his daily Peanuts strip. On 12 February 2000, the night before his final cartoon was published, Schulz died in his sleep. Patrick Blower, for one, has admitted that he fears that for cartoonists there is no real alternative to employment as a cartoonist, even at the risk of going on beyond your best. According to Blower: 
"Yes, we all go on too long, of course we do. Once you've reached the top, there's nowhere else to go; no cosy sinecures, no university chairs, no well-renumerated non executive directorships, no memoirs that anyone would buy, no diversification into books, no TV punditry. We're just misfits tagging onto the arse end of newspapers. The choice is: cartoons or oblivion."
The Times's Chris Duggan concurs with Blower and admits that retirement offers little future succour: "I do not think it is an option. I guess you get retired as things move on when styles and opinions change. I don't even want to talk about it.  Daytime television? Stone coloured windcheaters? Trips to the garden centre every week? Permanent lockdown? Not while there are such top satirists to illustrate, like Donald Trump, Boris Johnson and his éminence grise. Without cartoonists doing what they do people might think they were serious!"
When I asked Steve Bell if he had had any thoughts about retirement, suggesting he might want to swop his pens and inks for a pipe and slippers and partake in things retired people did like play the occasional round of golf, he angrily retorted, "Who would want to play fucking golf? I hate fucking golf!" Bell then stated in a more temperate tone that, in any case, he could not play golf to save his life. He mused that it would be so weird to retire and that he would not know what to do with himself if he did. Nothing else interests him in the same way that cartooning does and despite this, he claimed he was not any good at anything else. He then told me that it was all academic as he had no choice but to carry on working as his four grown up kids had spent all his money:
"Most cartoonists are freelance and we all have no choice but to carry on working. I couldn't live on my pension so retirement is not an option."
Like many long serving newspaper cartoonists, Bell still enjoys the daily challenge of testing his wits in coming up with beautifully rendered compositions that say exactly what he wants to convey to his readers: "It's excruciating at times trying to work out what am I going to do today. I get a massive buzz from solving, what is, in all intended purposes, a puzzle. I feel the pain more. When you are older you look at the bastard and wonder how you are going to do it. It's so exhausting. It's the same old jokes the same ones I was doing in the 1980s with the same old political subjects."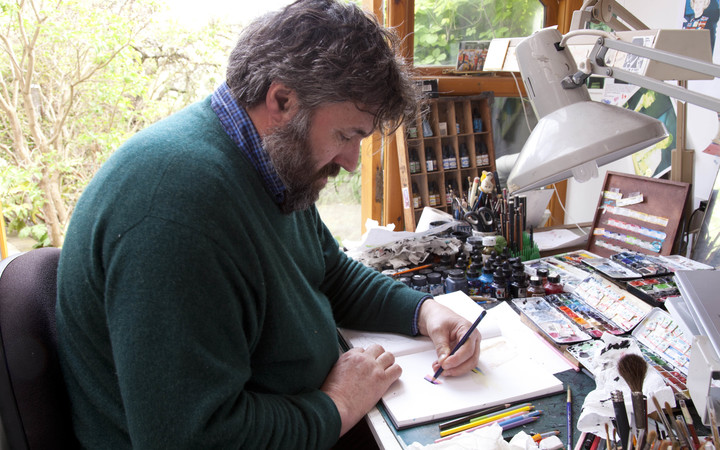 Steve Bell still loves cartooning and has no plans to retire.
Bell says he knows he could "drop off the perch" at anytime but insists he will only retire when he stops enjoying cartooning. He admits age has made him more impatient and more irascible. This manifests itself with him spending a lot more time sitting at his drawing board swearing at the radio. Radio Four is a real bugbear of his especially the afternoon news and current affairs programme PM. "It's abominable," he fumes, "It's continual centrist right-wing drivel from Radio Four." However, on the positive side, he is more comfortable in who he is and more philosophical about life. Bell claims this means he no longer takes criticism of his work to heart as he had previously done despite often being on the receiving end of attacks on social media and by high ranking Tory politicians.The biggest mistake any longstanding cartoonist can make is to resign in a fit of pique. Those that have done so have never worked again. Ric Brookes who took over from Carl Giles at the Daily Express resigned from the London Metro in November 2011 at the age of 63 after an argument over editorial interference. Despite, retaining his artistic attributes, he never worked again for the national press. The same thing happened to the late Dave Gaskill, who coincidentally had replaced Ric Brookes on the Sun. In 2011, he resigned at the age of 72 from that newspaper after a dispute with its chief executive, Rebekah Wade. According to the cartoonist: "She proved very difficult to work for, and the number of ideas I submitted went through the roof, resulting in my finally walking out. I just couldn't handle it any more. Not a good career move as it would turn out." Again, like Brookes, Gaskill, although keen to do so, never worked again as a full time cartoonist. 
Political cartooning in Britain has always been dominated by 'grumpy old men'. It has never been a young man's or dare I say woman's game. As there have literally only ever been a handful of full-time positions open to political cartoonists in the national press, they tend once employed to remain in situ until they are either fired, commit suicide or are literally carried out feet first. Not surprisingly, finding employment as a political cartoonist is often and aptly described as filling dead men's shoes. Peter Brookes has mentioned to me on numerous occasions that Morten Morland is waiting for him to die so that he can replace him as The Times's lead cartoonist. Even today, the majority of Britain's leading lights are in their 60s and 70s with a minority of arriviste whippersnappers in their 30s and 40s. The only evidence available of an editor actually trying to lower the age limit of cartoonists on a newspaper was Alan Rusbridger, who in 1994, as deputy editor of The Guardian, introduced a policy of firing any journalist aged 50 or over. Les Gibbard who had just turned 50 was one of the first to be let go after 25 year's service. Unluckily for Gibbard, the policy was short lived and the man who replaced him, Steve Bell is still there today as he himself nears the age of 70.
The reputation of a number of leading political cartoonists have directly suffered as a result of them losing their physical faculties as they have grown older. Usually the first thing that goes is the eyesight. Some struggle on with glasses with stronger and stronger prescriptions, but when that no longer works they realise they are in deep trouble. Steve Bell has found his eyesight "ain't what it used to be" a few years back. It is now difficult for him to see any detail close up and this has forced him to always wear glasses to draw. When the 81 year old caricaturist and cartoonist Wally Fawkes noticed, after an unbroken 62 year career, that his eyesight had suddenly started to seriously deteriorate he felt there was no alternative but to call it a day. Although he could still see peripheral trees and grass whilst out walking, he could not see what he was attempting to draw and as a result could no longer capture a likeness, which is of course vital when it comes to caricature. According to Fawkes:
"Every time I drew someone, when I took a closer look, it didn't look right at all. I was sad to give it up but it was becoming harder and harder to draw, and to be honest, there was a degree of relief in stopping. I will miss the process of coming up with ideas, though. The buzz is what I loved - putting two wires together and getting light! 'Ahh! there's the idea, there it is'."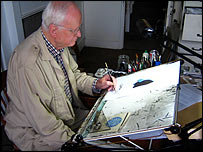 Wally Fawkes found that he could no longer see what he was drawing.
Having been forced to put down his pen, Fawkes regretted that he was no longer able to caricature the next generation of frontline politicians such as David Cameron, Ed Miliband, Jeremy Corbyn and Theresa May. However, unlike most of his cartooning colleagues, he had at least a major interest to fall back on his other prodigious talent, that of being a jazz musician: "I think I would be a bit sadder about the whole business if I did not have the clarinet playing, but it's a very good outlet to have."
It is remarkable that two greats from the past, Punch's Sir John Tenniel and Carl Giles had major problems with their eyesight from an early age. At the age of 20 both men were blinded in one eye at the very start of their careers. Whilst Tenniel lost sight in his right eye after being caught by his father's foil whilst fencing, Giles was involved in a serious motorcycle accident that left him blind in one eye and deaf in one ear. Both men were undeterred  by the loss of sight which, throughout their stellar careers, did not stop them from producing incredibly detailed compositions. However in the end, due to year's of prodigious work under tight deadlines, the constant strain on their one good eye, meant that the quality of their drawings suffered. This led to both men being forced into reluctantly retiring albeit Tenniel had reached 80 and Giles 75.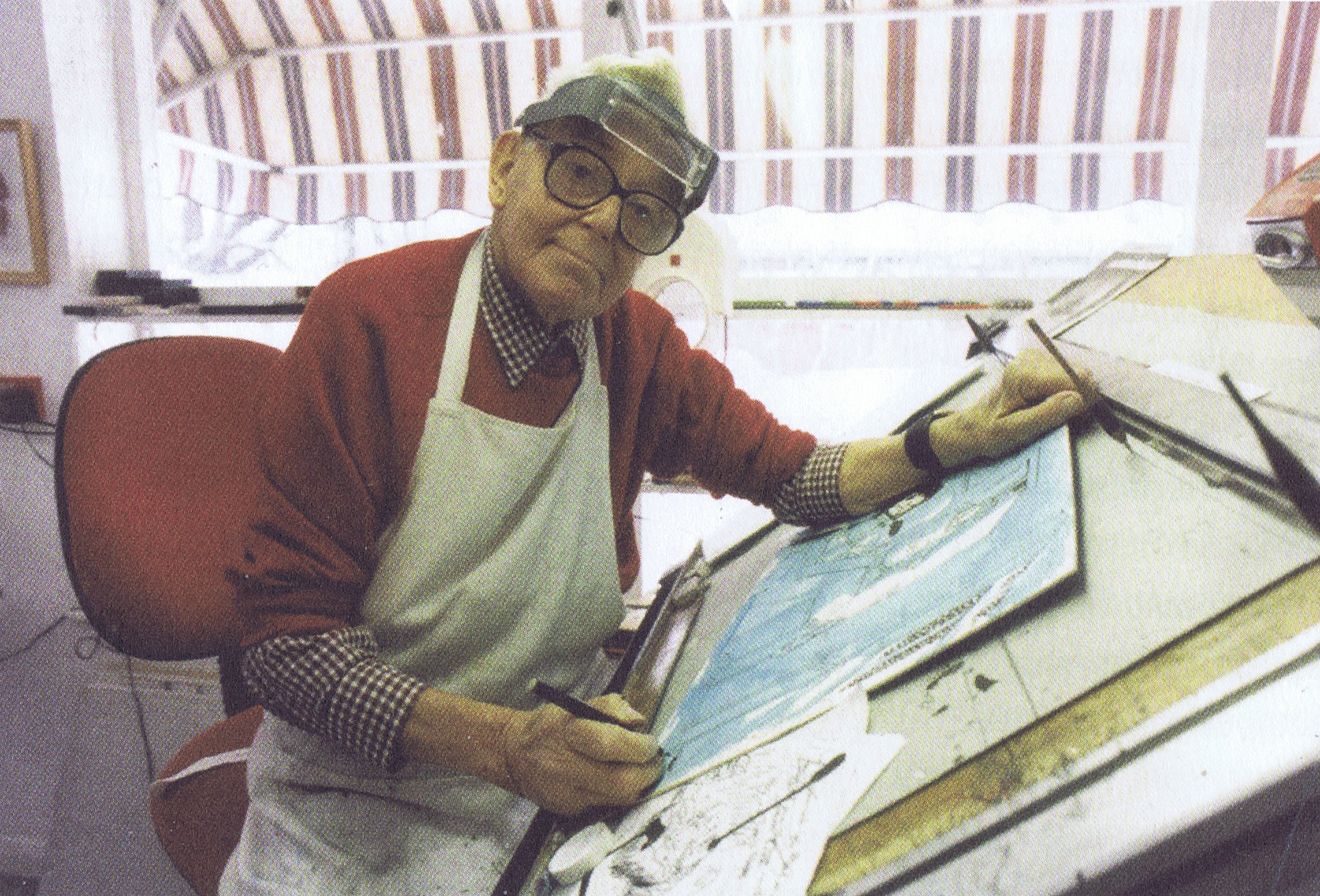 Towards the end, Carl Giles had to wear an industrial strength magnifying glass to be able to draw his cartoons.
Cartoonists these days are in generally good health. Maybe a few drink too much on occasions, but very few of them smoke or are overweight and most do a modicum of exercise. In the distant past, just about every cartoonist chain smoked. It was a time before all the dangers of smoking were known. In fact, many thought it was good for you and that it calmed the nerves. It was an easy and pleasurable thing to do whilst inking in at your drawing board or whilst pondering on ideas and news stories for that day's cartoon. Looking through old black and white photographs of political cartoonists you rarely see them without a cigarette, cigar or a pipe either between their fingers or hanging out the side of their mouths. The subsequent effects of smoking took its toll on many. Despite failing eyesight towards the end of his career, Carl Giles's health issues were exacerbated by poor circulation due to a lifetime of chain smoking and led to the amputation of both his legs shortly before he retired. Sidney Strube, another lifelong smoker died at 65. David Low developed emphysema from smoking which greatly effected his ability to use his brush precisely. As the illness worsened there was a comparative and visible decline in his draughtsmanship. It became apparent to The Guardian that Low was on the wane but they could not bring themselves to be seen to fire the 'greatest' cartoonist of them all. Despite witnessing his own decline, he still could not bring himself to stop. To encourage him, The Guardian introduced Bill Papas as second cartoonist so that Low would see the writing was now on the wall but that did not deter him from hanging on. Low drew his last cartoon for The Guardian on 30 April 1963. The following day he was unable to work and was hospitalised. Less then five months later he was dead. Low's daughter Rachael Whear, herself an historian of early British cinema, felt that his later work was considerably inferior clearly showing a loss of the sublime manual dexterity he once had. The later cartoons that were blighted by his illness, she believed should never be seen again. Whear collected up all his original cartoons that he had drawn for The Guardian that she felt directly demeaned his reputation and buried them in her garden in Harston just outside of Cambridge.
One of the very few that age has not adversely affected is Peter Brookes who has just turned 77. Peter has had health issues having struggled with diabetes for many years and admits he finds the process of cartooning much more tiring as a result. One consequence is that it now takes him longer and he does not even have the time to leave the office for lunch anymore. According to Brookes:
"If, as I edge towards 80, I can still feel no qualms at ripping up a cartoon I'd been lovingly working on, with my deadline coming up fast, because a juicier political news story had just broken, and begin all over again, then maybe what I do is a vocation. Or masochism. It's always been like that, and as long as it still is, I won't stop. The moment I feel 'Oh, that'll do' is the moment I'll chuck it in. In other words you have to have a hunger for it, and when you're away and not turning the metaphorical thumb-screw, you wish you were back doing it. No, it's not your normal job, though perhaps elevating it to a vocation is a bit St Joan of Arc. I don't hear voices. 'Journalism' will do me."
Although his daily routine often leaves him completely exhausted, the quality of his output is as sublime as ever. Brookes believes that what he does not have in energy he makes up with the knowledge he has built up over a career spanning nearly 40 years at The Times. "With age", Brookes says, "the more tricks you've got up your sleeve to get an idea across the easier it is. That only comes with experience." Brookes states he is financially secure so could easily retire tomorrow if he wanted to. Like Bell, he still enjoys his work as much as ever and that it makes no sense to him to even think about packing it in. He is terrified of the thought that if he should retire, he would miss it terribly.  He jokes that he has probably only got a few more years left before he "collapses in a heap," but adds: "I have no plans to retire. They'll have to carry me out."
Some cartoonists have doggedly continued on despite health issues such as a dodgy heart and/or clogged arteries. Leading figures such as Linley Sambourne, Will Dyson, Raymond Jackson 'JAK' and Michael Cummings all died from heart attacks whilst still at their drawing boards. A number of them have also suffered the strangest of deaths curtailing their careers in an instant. In 1945, Sir Bernard Partridge was involved in a fatal accident soon after he had been sitting on top of Big Ben painting a city landscape of London. The 84 year old lost his balance, slipped and fell the 315 foot drop to the ground but somehow miraculously survived. However, the ambulance which was on route to rescue the fallen cartoonist ran him over killing him in the process. In 2000, Low's successor at The Guardian, Bill Papas, who had been on a fishing trip with a group of friends in British Columbia, survived a plane crash when the float plane he was on lost power. Unfortunately it crash landed in marshland and Papas subsequently drowned. 
Sadly a number of cartoonists have committed suicide towards the end of their careers. The father of modern political cartooning, the 19th Century caricaturist James Gillray had a physical and mental breakdown and as a result drank extremely heavily. He tried to commit suicide by throwing himself out of a top-floor window of his house in St James's Street, Piccadilly and later died from his injuries. Victor Weisz 'Vicky' famous for his depiction of Harold Macmillan as 'Supermac' took his politics very seriously; probably too seriously. As a staunch socialist he had pinned all his hopes on Harold Wilson's incoming Labour Government in 1964 after 13 years of Tory rule. However, he soon became disillusioned with Wilson's conservatism. He had also suffered, as a Jew having fled the Nazis, survivor guilt since the end of the war and the discovery of the death camps. On 23 February 1966, suffering from depression, insomnia and exhaustion he took an overdose and died. Keith Mackenzie was a cartoonist and art editor at the Daily Mail. In 1977, his wife Zelma, an illustrator and wood engraver, ran off with the Daily Mirror's cartoonist Keith Waite. When she died the following year, Waite inherited the house that had belonged to Mackenzie too. In 1981, combined with an overwhelming sense of guilt that he might also be gay, Mackenzie, like Vicky, took a lethal overdose.
Regardless of the unfortunate circumstances upon which cartoonists either die at their drawing boards, by accident or commit suicide, the biggest drawback to being on the job too long is the risk that your work becomes dated, unfunny, repetitive, no longer relevant and out of touch. If this happens, the chances are you are going to get fired. Illingworth used to jokingly say that he managed to survive so long in Fleet Street because "when the editor comes in looking for someone to sack, I hide behind the door and he doesn't see me." Sir Bernard Partridge certainly outstayed his welcome but was never fired. His heavily overdrawn, pompous and curiously lifeless style of drawing for Punch had been outdated for decades before his death in 1945 aged 84. Although he admitted to being a hack, Partridge felt it necessary to draw in the grand outdated manner as Tenniel had done in the previous century. Partridge hated change and was described by one critic as "a veritable coelacanth among cartoonists - his ornate sesquipedalian style an ossified relic of a bygone age." He hated change and so failed miserably to keep up with the more minimal and numerous style of his fellow cartoonists. He found his last few years bewildered and unable to keep up with the rapidity of events during the Second World War. During the first war, there was little movement on the battlefront giving Partridge plenty of time to draw in the grand manner whilst during the second, by the time he had barely finished the cartoon, events had already superseded it. As Partridge's health declined, Leslie Illingworth was often invited to fill in for him, much to the latter's annoyance. He expected to be treated with extreme deference, having been at Punch since 1891. Illingworth, in fact, remembered being customarily bundled down the back stairs whenever Partridge came into the building.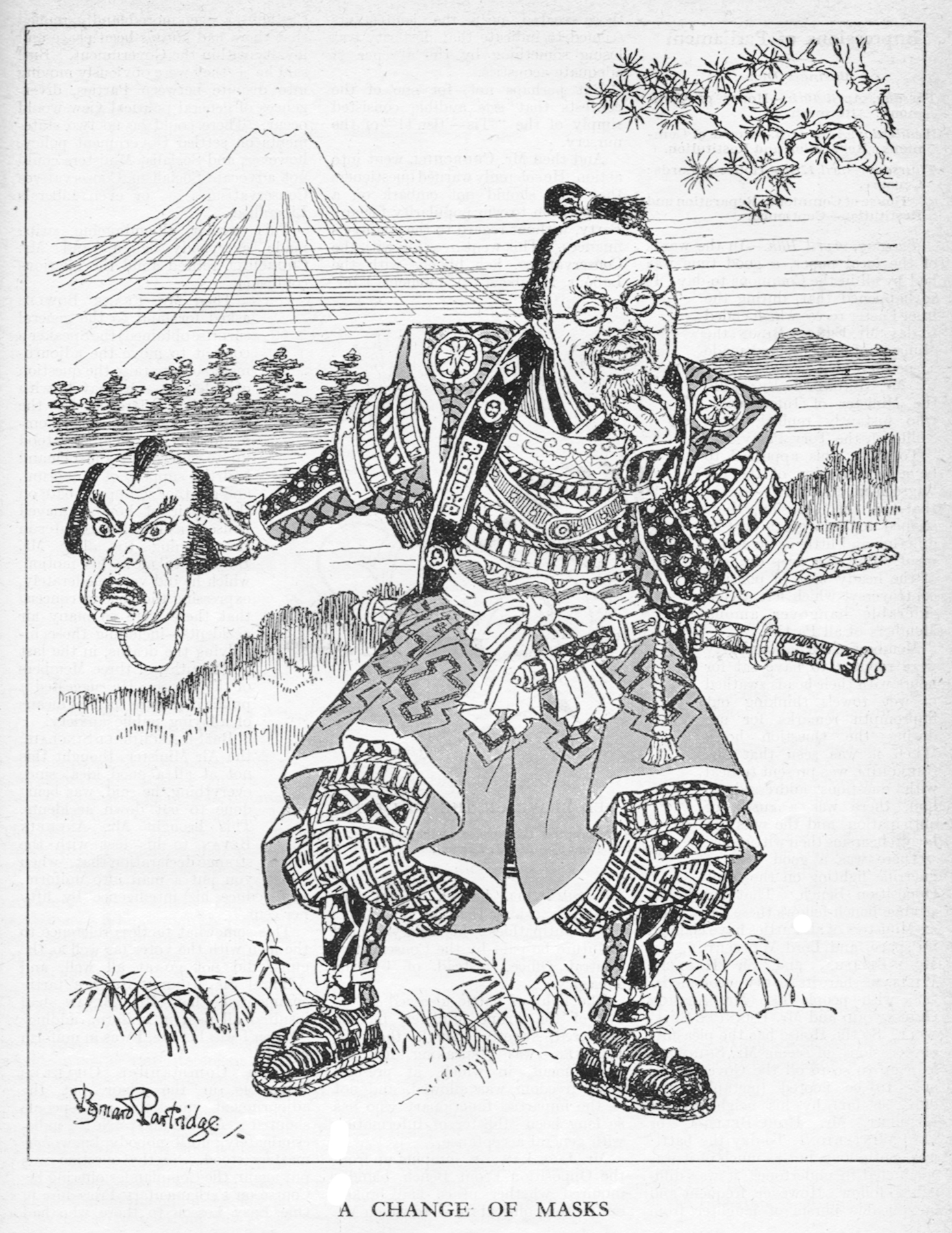 Bernard Partridge's last cartoon for Punch before his unfortunate demise.
Sidney Strube was the most popular cartoonist of the interwar period and the highest paid man in Fleet Street. He was adored by the millions that followed him in the Daily Express, the paper which at the time had the largest circulation in the world for a national newspaper. He had been at the paper since 1912 but in December 1947 he was fired because, according to cartoonist Michael Cummings, he had become 'too repetitive and stale'. Strube was crestfallen and totally unaware of how outdated his work had became. To make matters worse he was fired on his birthday. In a memo to Lord Beaverbrook, the owner of the paper, his Chief Executive  explained why the decision had been taken to dismiss Strube and what happened as a result:
'After publishing a number of very indifferent Strube cartoons, we decided yesterday that the time had come when we should cease the publication of any more cartoons by our dear old friend. After 36 years on the paper our decision obviously came as great shock. His attitude was a mixture of incoherence and great belief in himself. He could not, for instance, understand how anyone could decide to drop a great artist like himself and continue with a poor one like (Carl) Giles. Strube believed, with complete sincerity that he hoped that the resulting loss of circulation as a consequence of him leaving would not be as great as he thought it would be.'
Even the greatest political cartoonist of the 20th Century, David Low, was forced to leave the Evening Standard at the age of 58. Despite his genius in taking on the Dictators, Hitler and Mussolini throughout the 1930s and 40s, the editor of the Evening Standard, Herbert Gunn, no longer felt after the war that Low's cartoons were an asset to the paper and that his talents were very much on the wane. Ronald Searle also noticed that Low's return to the home front had had a dulling effect on him. Evening Star cartoonist Frederick Joss wrote in July 1949:
'I have heard people ask: "What's happened to Low?" Meaning that his work has somehow become less of an event. That the institution has become less of a daily sensation. In recent years, to be sure, I heard more people refer to Giles, Osbert Lancaster's and Vicky's cartoons than to David Low's. Then, what HAS happened? Low always held that cartoonists need not be funny. But he used to be very funny himself. His occasional sermons were outweighed by his gags and jabs. The gags have all but disappeared. The sermons have remained… The cutting edge of his sword seems duller.'
Despite Low being described by the Evening Standard's owner, Lord Beaverbrook, as "the man he couldn't fire" and even though his contract stipulated that his cartoons should be a half-page, Gunn repeatedly and deliberately shrank the space allotted to Low knowing how important space was to the cartoonist. According to the late Michael Cummings 'a cartoonist always knows when he is no longer wanted when they start shrinking the space available for his cartoons.' In July 1947, Low drew a cartoon entitled 'CLAUSTROPHOBIA DEPARTMENT' that firmly put the blame on the Chancellor of the Exchequer, Hugh Dalton, for the paper shortage in Britain, and thus the smaller cartoon. It is, however, difficult to comprehend why Low's cartoons were being reduced in size, when the paper shortages were that much greater during the war. Between 1943 and 1944, the Evening Standard had been reduced to only 8 pages, compared to that of 12 pages in 1947.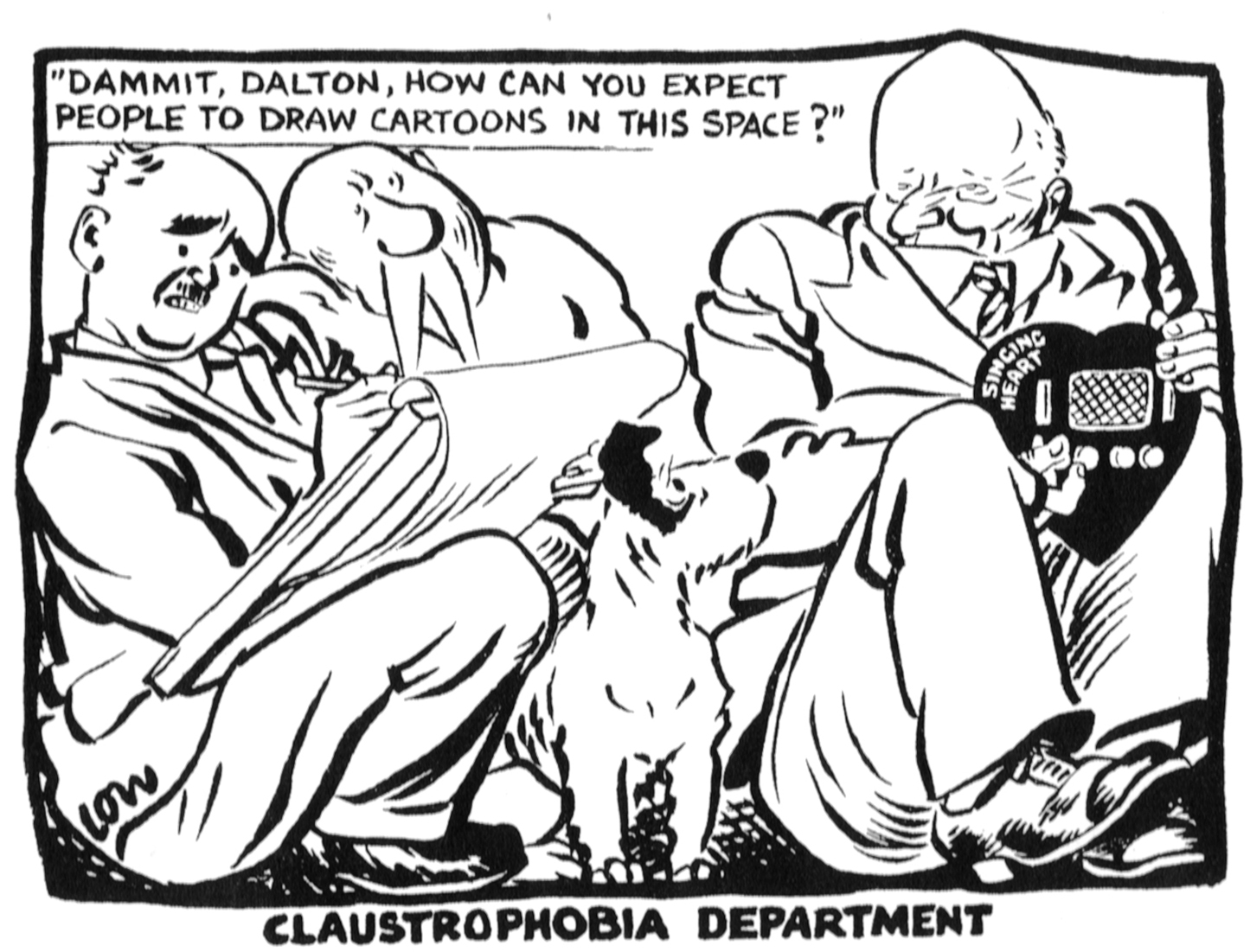 David Low complained about the lack of space given to him.
The continual restrictions over space for his cartoons probably played a major role in making up Low's mind that it was now time for him to move on from the Evening Standard. Having looked at the way Low was treated during his last years at the paper, it appears more and more probable that the restrictions placed on him were in fact intentional rather than as a result of post-war paper shortages. Low was horrified each time he was told that the space available for his cartoon was being reduced. Responding to Gunn, Low made it quite clear how detrimental the changes were having both to his work and his reputation at the Evening Standard:
'I fully appreciate your difficulties about space in the small newspaper, and I think you understand mine. Therefore I will not labour the point about the cut in width, since the present size is already too small to "operate" properly, beyond noting that the new size will permit only the bare illustration of ideas and will make artistic quality not merely difficult but impossible. This is a dismal prospect for me, who wants to DRAW, and my reputation, which must suffer a decline here and wherever Evening Standard syndications go.'
Apart from reducing the space of your cartoon or firing you, often newspapers will cut down your weekly output as a first step to kicking you out of the door. This way they can retire you gracefully by cutting down your workload, like a number of other newspapers have done to long-serving cartoonists in the past. When Lord Winterton was Editor of the Newspaper World between 1910–11 he did exactly this to save the face of Leslie Ward, the famous 'Spy' caricaturist, as he explained to Sidney Strube in 1932:
"Leslie Ward was doing the cartoons then; he was getting on in years even at that time, and his work was not quite what it had been earlier. As I thought the public were getting a little bit tired of it, I arranged that he should alternate each week with "Sem", and though the old man resented this at first, he eventually agreed to this course."
In 2011, the Daily Telegraph thought Nick Garland was no longer up to being lead cartoonist. Although now aged 75, he was still enjoying being full-time. As he had been a loyal servant to the paper, the Editor asked him whether he might like to go down to two cartoons a week with Christian Adams taking his place as lead cartoonist. Garland thought this demeaning to his reputation so he refused. Garland then described what happened next: "I was fired from the Telegraph... They didn't give a reason, just said goodbye, push off."
This is the problem. If you hang on to the bitter end, you invariably end up getting fired and with it a lasting feeling of resentment to your last employer. In 2017, after 50 years at the Sunday Times, Gerald Scarfe was fired at the age of 81. In the end, despite a great innings, he felt betrayed and unfairly treated. In his autobiography, he firmly blames the editor. Now most well-heeled people at 81 would be happy to call it a day and go off and enjoy their last few years. Not Scarfe! Within a week he was in touch with George Osborne, now editor of the Evening Standard. He even sent him a caricature of the former Chancellor to persuade him into giving him a job. This was so he could put two fingers up to the Sunday Times. Osborne was flattered and took Scarfe on to do one cartoon a week on a generous salary of £60,000 a year, although small beer to what he was earning at the Sunday Times. Was it to be the Scarfe of old? Sadly not. In March last year at the age of 82, he suffered the ignominy of being fired yet again, this time there was sadly to be no comeback. Michael Heath in now 85 and still regularly draws cartoons for the Mail on Sunday. His growing band of critics say that he is still drawing in the same way he did in the 1960s, and, as a result, his work feels not only stale but dated and repetitive.
Sometimes cartoonists hang around for so long that they no longer appeal to a generation of new readers. With the advent of time tastes, social mores and humour all change and evolve. Cartoonists can often feel less comfortable in an age they do not quite understand and out of sync with the present. Mac, for example, for many decades was extremely successful with genuinely funny topical gags which were never overtly political. However, by the end, his outdated jokes jarred in an age where political correctness is considered the norm. The cartoons were now funny not because of the gag but because they had become outrageously politically incorrect. Readers were now laughing at the cartoonist rather than, as in the past, with him. His outdated stereotypes of fat bullying battle-axes alongside their diminutive henpecked moustached and balding husbands, big busty dolly birds and the old-fashioned depiction of people from different racial backgrounds just offended rather than amused. His visual references were also dated. For example, when he featured British soldiers they invariably appeared in 1950s National Service uniforms rather than the current combat fatigues, whist city types would appear with bowler hat and umbrella and if without trousers would be seen with, of all things, sock suspenders.
The same thing happened to Michael Cummings, who was fired because he had become considered by his editor as "too dated". Even in the early 1990s he was often accused of being a racist, sexist and homophobic. His 'line' had also over the years became so much thicker and evermore inflexible. Wally Fawkes felt it was as if Cummings had swopped a pen for a large chisel. Actually just before he was let go Cummings did admit to being out of step. He certainly deplored the development of modern styles of cartooning such as ITV's Spitting Image which seemed to him "tasteless, sickly and sadistic." Apart from his age, fellow Guardian columnist Edward Pearce believed that Les Gibbard was, along with Cummings and Mac, fired because he had also become out of step with the times. According to Pearce: "Gibbard was out because of a regressive fashion. 'Back to Gillray', instant fury lavatorially expressed." The new style was starkly in contrast to the old. Gibbard's style was gentler and more polite than that of either Bell or the visceral Rowson, and in his cartoons there was "not a pile of excrement in sight."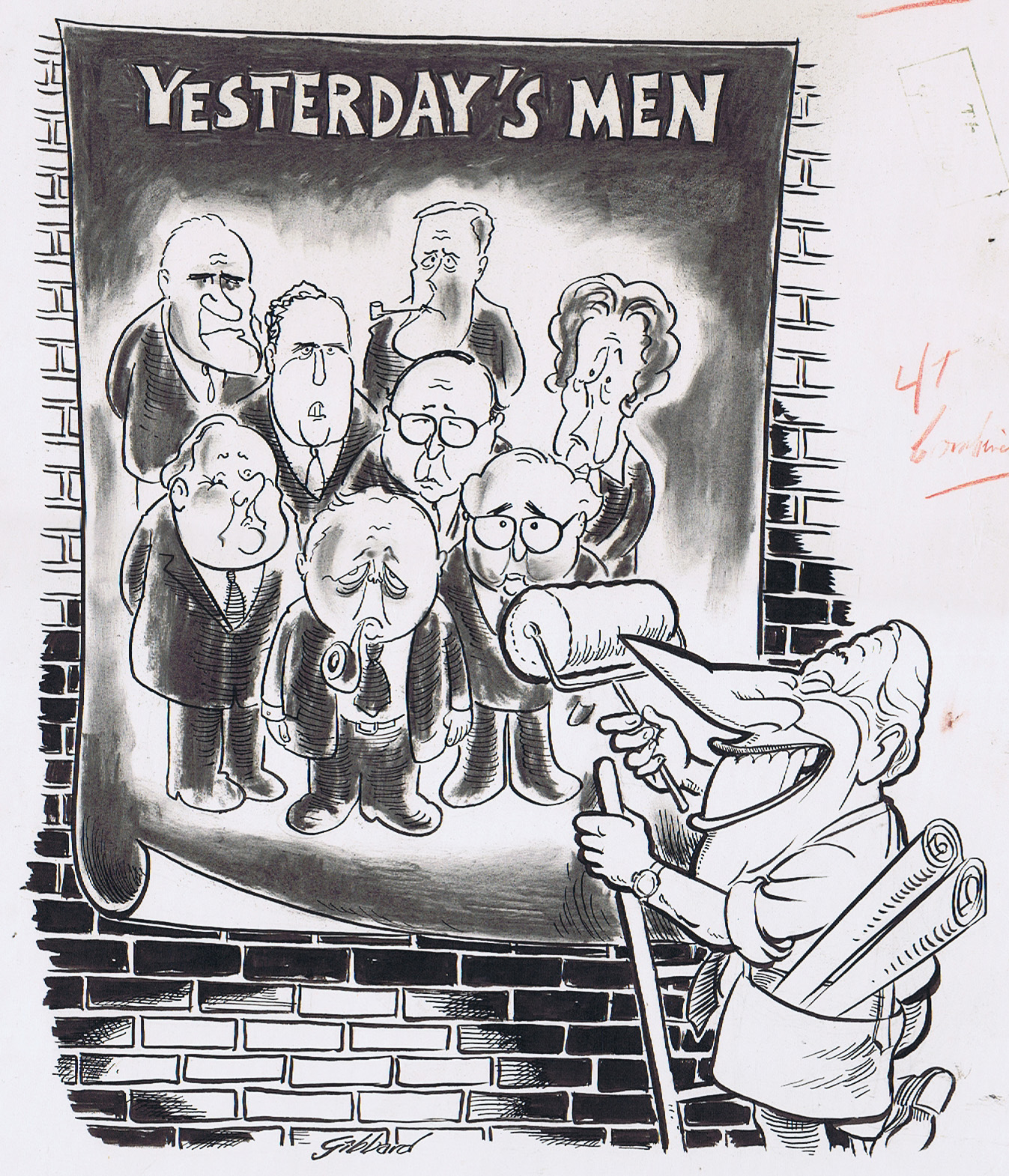 Les Gibbard was fired because he was considered too gentle and polite.
Another recent development and threat to the careers of our long serving cartoonists has been this year's Coronavirus epidemic. Many of them due to their health and age have had no choice but to shield themselves from the virus. From a professional point of view, the virus has been a godsend. Instead of focussing on Britain's negotiations over a trade deal with the EU, cartoonists have relished covering the dramatic and earth shattering impact of the virus on Britain and the rest of the world. The virus's spherical shape surrounded by its crown of club shaped spikes has offered cartoonists pretty endless opportunities of drawing its as something else, be it Hamlet's skull, a football, a meteor, a pothole etc etc. Most fun has been watching how our cartoonists have been using the image of the virus for all its worth especially in ridiculing our government's inept response to it.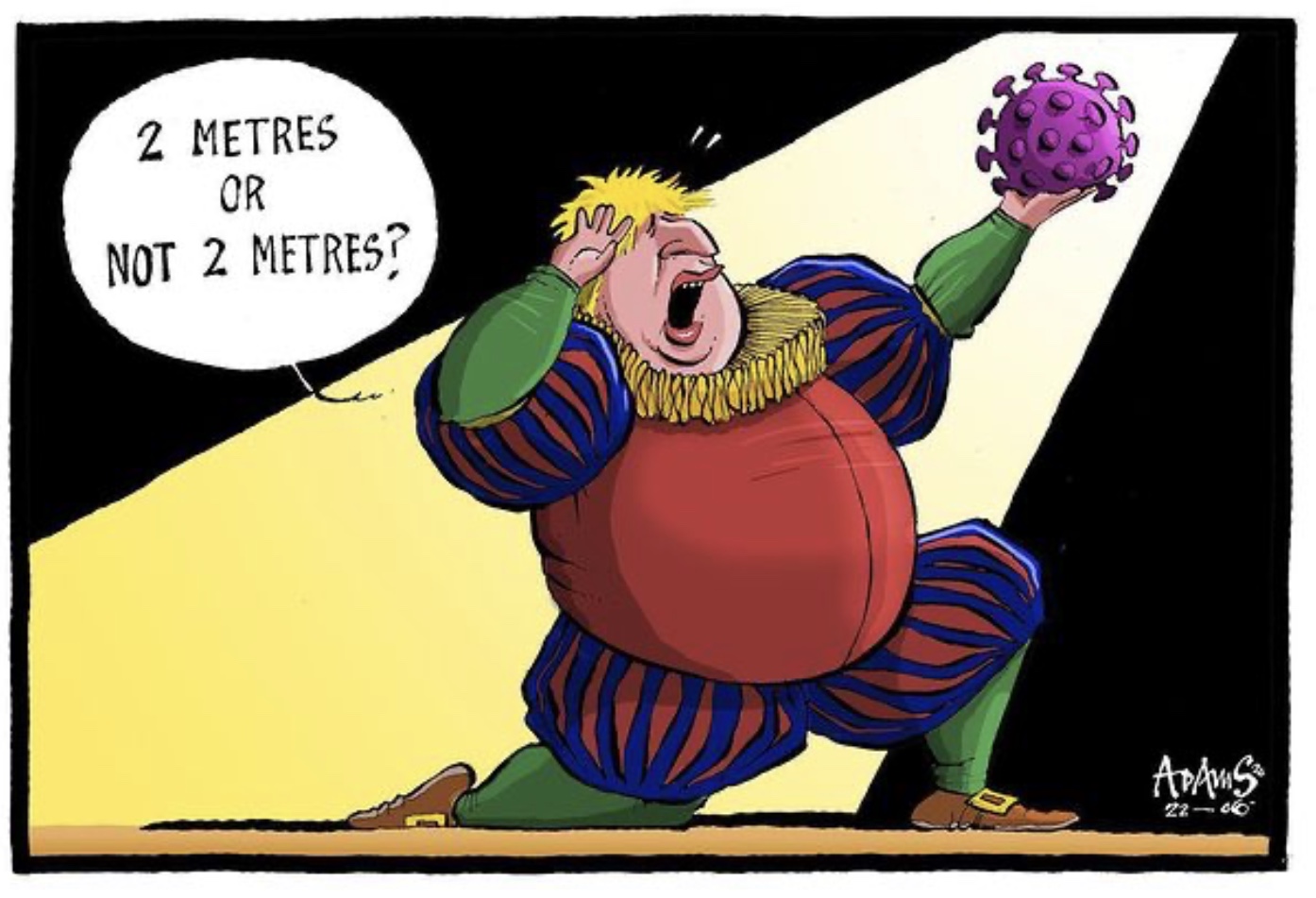 Christian Adams's clever use of the Coronavirus as Hamlet's skull.
Despite the awful loss of life from Covid-19 especially amongst the elderly and infirm, our treasured cartoonists have fortunately all remained safe from the dreaded virus.  Maybe there is a god after all. If so, he must surely love political cartoonists and especially enjoy watching them from above deriding our oh so human politicians.
I've just heard that Stan McMurtry 'Mac', now having reached the grand old age of 84, has just come out of retirement to rejoin the Mail. He will provide a regular cartoon for the Mail on Sunday. Who on earth said that cartoonists have a sell-by date?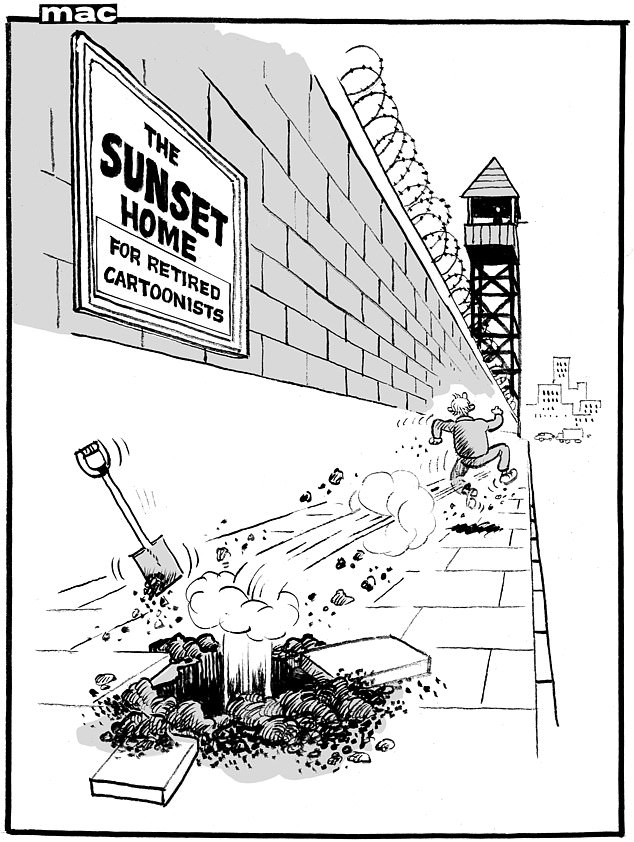 Mac has escaped from the cartoonists old age home to once again work for a national newspaper as their cartoonist.