Carl Giles: Britain's Greatest social cartoonist
Carl Giles: A life 1) Carl Giles's working day 2) Grandma and the Giles Family 3) Giles at Christmas
1) Carl Giles's working day
From 1943 through to his retirement in 1991, Carl Giles was, by and large, Express Newspaper's greatest asset. Those who regularly read the Daily and Sunday Express during those years would often make a bee line straight for the Giles cartoon, deliberately prioritising it over the paper's other news stories and features. According to one commentator, "His oblong space in the Express newspapers became a window into which the British public peered day after day to see themselves, reacting to history through more humorous, more tender and infinitely more sensitive eyes."
Giles was considered indispensable and received a salary that was two or three times as much as that of the editor. At the height of his popularity, Giles was taken to lunch in London by the Chairman of Express Newspapers, Sir Max Aitken. As they walked through Berkeley Square, Sir Max asked Giles how he was getting home. 'By the train,' said the cartoonist. He then walked the cartoonist into Jack Barclay's, then the pre-eminent London dealer in Bentleys and Rolls-Royces. Knowing Giles's affection for motorcars, he asked him which car was his own favourite. Giles immediately pointed out a Bentley Continental. Sir Max then said "Give me your return ticket to Ipswich?." He did. "Right. I'll keep this and you go home in that" and he did.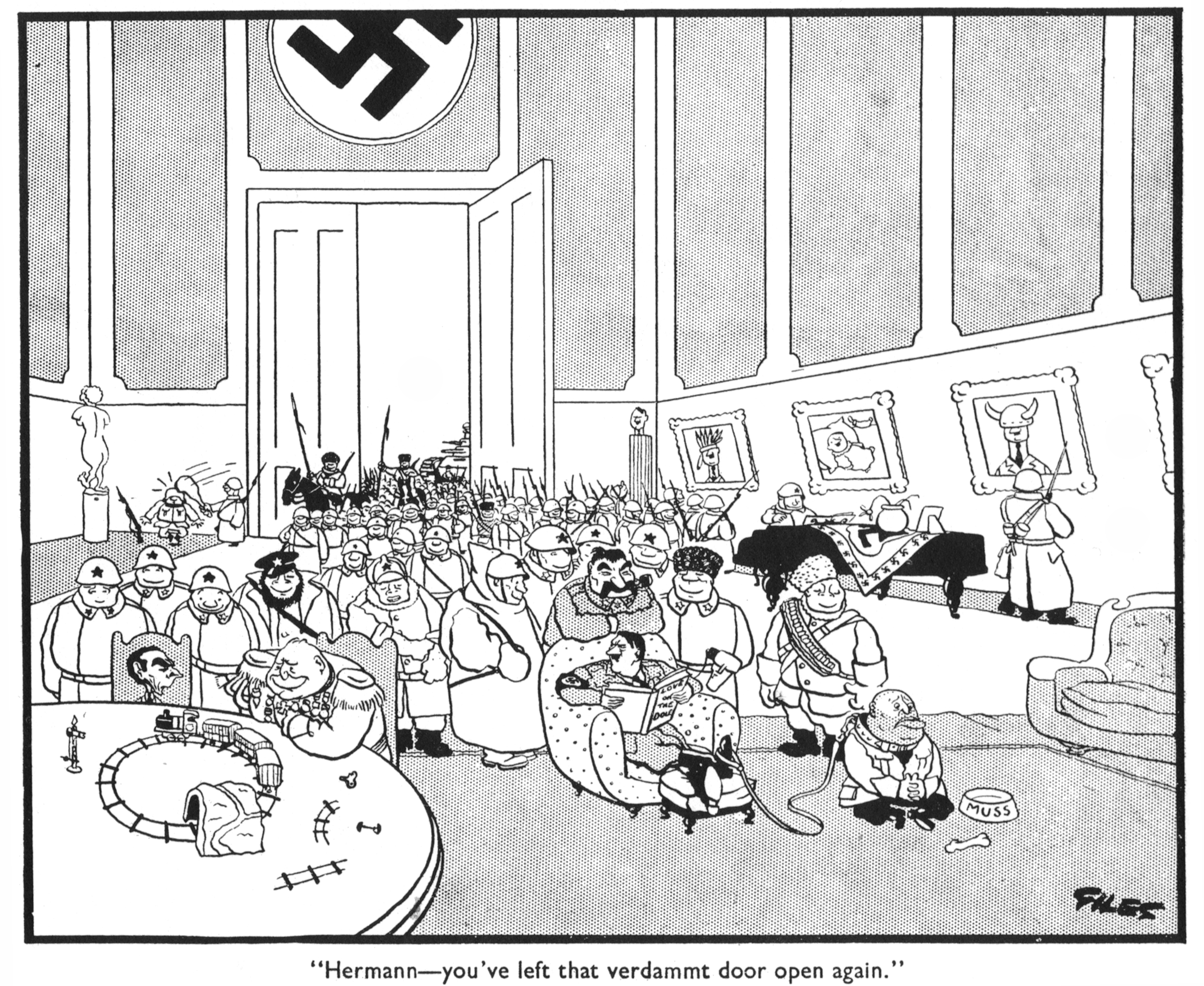 Carl Giles's first cartoon for the Daily Express.
After Giles's first cartoon for Express Newspapers had appeared on 3 October 1943, his daily work routine changed very little thereafter in the forty eight years he was employed by them. Having agreed to produce three cartoons a week (Mondays, Wednesdays and Saturdays), two for the Daily Express and one for the Sunday Express, Giles was from the outset unusual among national cartoonists in that he steadfastly refused to work from his employer's offices in Fleet Street. "I see him only once a month on average", wrote his first editor, Arthur Christiansen, in 1947: "For the rest my business is conducted by telephone." This gave Giles the advantage of being largely independent from editorial control as, unlike most other cartoonists, he never had to submit roughs for approval. "I can't work that way" he once said, "I just sit down and draw the thing." On weekends, he would work from his drawing board at his 17th-century farmhouse in Suffolk, whilst during the week he preferred to draw from a studio he rented in the centre of Ipswich. It was situated in the Buttermarket because, importantly to him, it was next door to the train station. "The penalty of working for Fleet Street," Giles had said, "is that the studio must be close to the train." The studio, by all accounts, looked more like a dental laboratory than a cartoonist's workshop. He had a huge swiveling drawing board which was surrounded with lights and electronic gadgets of one type or another. His tools of his trade, pencils, pens and brushes were laid out meticulously by the side of the drawing board whilst on the other side of it a big eraser dangled from a piece of string. 
Being an insomniac, Giles considered four hours a good night's sleep. He would generally go to bed around 2.00am in the morning waking up at around 6.00am on what he called "cartoon days" i.e. the days he produced a cartoon. On such days, he would listen to the news on the radio over breakfast, and then proceed to read all the local and national newspapers that had just been delivered by the paperboy. He would then always pose himself the same question: "What will they be talking about at the bus stops tomorrow?" Giles would then discuss any ideas he had with his wife Joan. She would then check his extensive filing system to see when he last used a similar theme to the one being considered so as to avoid repetition. As one interviewer noted, Giles would then, fortified by numerous cups of tea, "moon about the house waiting for an idea to gel", before again listening to the midday news on the radio. By lunchtime he had usually distilled out his theme for the day and headed out for his Ipswich studio in his Aston Martin DBS. The prospect of having to come up with three great ideas a week, year in year out, never seemed to daunt him. "It becomes a habit," he explained, "I don't agonise over the drawings." 
Giles would generally give himself three to five hours in which to complete the cartoon, in order to get it on the train to Liverpool Street Station. There an Express messenger boy would be anxiously waiting to collect it. Giles mischievously claimed "I've never missed a deadline yet." However, in reality, he often did. On such occasions that the cartoon missed the train, it would be returned to the studio where Giles would do more work on it, before sending it on the next train down to London. As his wife Joan later explained, "Carl can never leave a cartoon alone." 
When the cartoon failed to arrive on the promised train, the page it was going on at the Express would be held up until it finally arrived. A huge sign in the Daily Express office read "MAKE IT ON TIME", but Giles' drawings tended to be invariably late for, as one editor noted, he liked to spend hours on a single drawing, "mainly because of his love of realistic detail and authentic settings". This was indeed Giles's trademark setting his cartoon figures against elaborately-detailed naturalistic backgrounds, often with fascinating sub-plots occurring away from the main focus of the cartoon which, of course, was ultimately time consuming. Hugh Cudlipp, who became managing editor of the Sunday Express in 1950, recalled the tension in the London office as the deadline approached. "It would be a Saturday night and there would be this huge blank space on page three waiting for the Giles. Carl would have called and told us it was on the 2.10 from Ipswich. At four or five o'clock it still won't have arrived. Carl would have said: 'Send a messenger. The guard's got it. He's a friend of mine.' The cartoon somehow always made it - no one knew quite how." In later years, Giles got less and less reliable to the increasing fury and indignation of editors. According to former editor, Christopher Ward:
"He was an absolute pain to work with because he lived in East Anglia and, drawing only on the day, ran late and almost always missed the train so the first edition had to carry a halftone faxed version which looked dreadful."
This routine remained largely unchanged until the end of Giles's career, although the train was eventually abandoned in favour of a taxi, which left Ipswich at 3.30pm to be certain of reaching Fleet Street by 6.00pm. Sometimes in the winter, when Giles was snowed in, the Express would even send in a helicopter to collect the cartoon.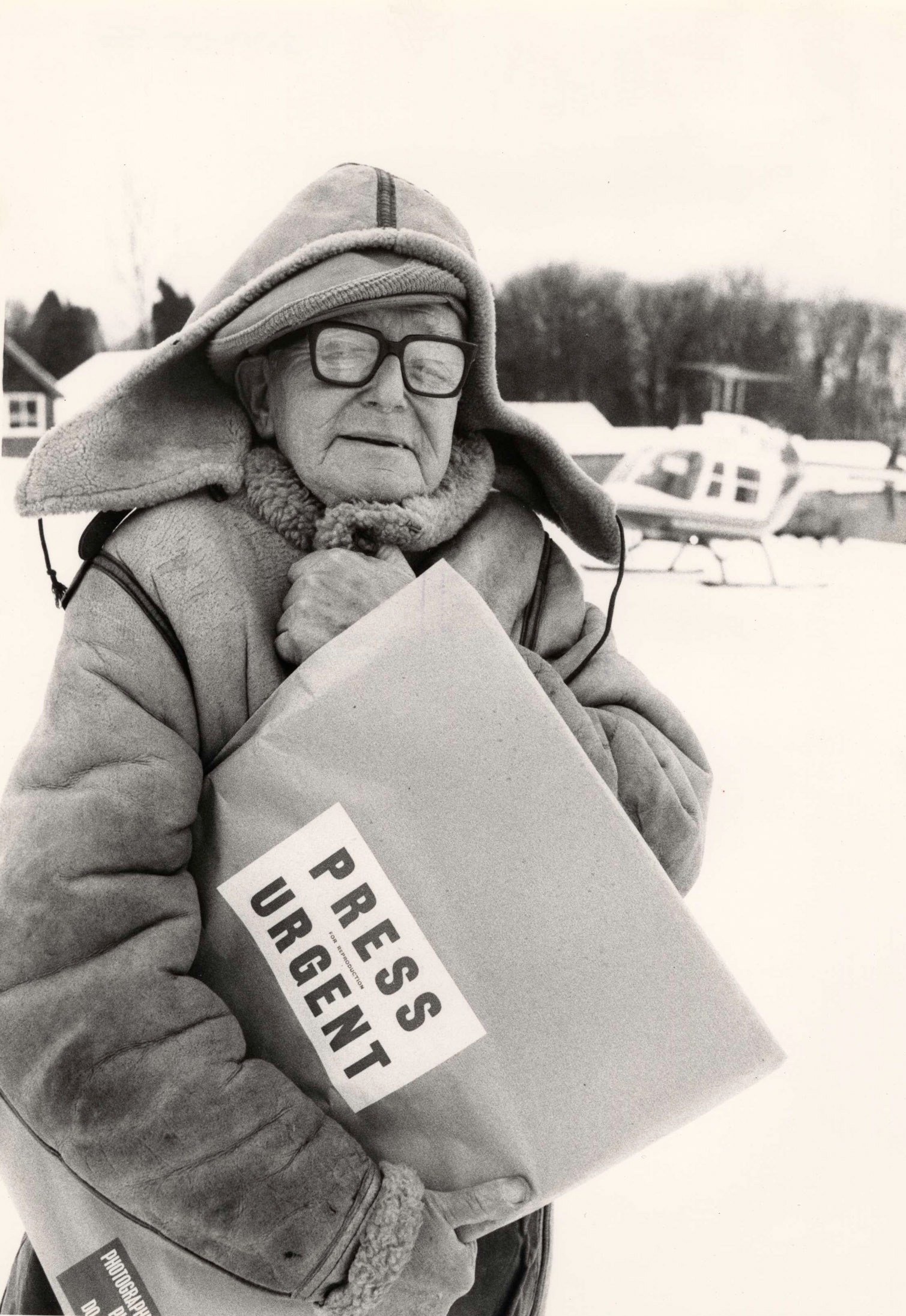 Giles's cartoon collected by a helicopter due to the cartoonist being snowbound.
Working solely from Ipswich also allowed Giles to play tricks on the newspaper's editorial staff. The pocket cartoonist Mel Calman, who joined the Daily Express in 1957, recalled that a member of staff on the picture desk scrutinised every Giles' cartoon each night for anything 'libellous' or 'offensive': "I watched him scanning the drawing very carefully and asked him why he gave it this careful scrutiny. 'Giles once sneaked in a packet of Durex right on the back shelf of one of his crowded shop scenes and since then I check every inch of his cartoons.' And he laughed affectionately."  On another occasion, a member of staff had noticed In one cartoon he had drawn Rupert the Bear hanging limply from a hangman's noose. 
In addition to his cartoons for the Express, Giles also undertook private commissions  and a lot of charity work. On those weekdays without newspaper deadlines the atmosphere in his Ipswich studio was much more relaxed, although the work was still intense. Even on these days he would work from early morning until late at night.
By the late 1980s, Giles's eyesight was starting to fail him. He had by now been forced to wear industrial magnifying glasses in order to see what he was drawing. His overall health was also in serious decline after decades of chain smoking. Editors were now not using a cartoon if they did not think it was funny or well drawn. This made Giles increasingly grumpy and difficult to deal with. He was already unhappy as his cartoons were being allocated far less space in the paper, which was mainly due to the Express having abandoned broadsheet for tabloid. Giles felt neglected and complained about the lack of attention he was receiving. According to Chris Williams he had become a "distant figure who wanted to be loved by everyone at the Express. In 1989, Giles finally parted company with the Daily Express, after the editor, Nick Lloyd, failed to turn up to an agreed luncheon at the Savoy, sending his features editor, Chris Williams in his place. As Giles later explained, "I just thought, 'sod this'", and walked out. He continued to work for the Sunday Express until 1991.
2) Grandma and the Giles Family
Carl Giles is easily the most famous social cartoonist in British newspaper history. Throughout his career from the late 1930s to the early 1990s, he regularly entertained the nation, firstly in the socialist Sunday newspaper Reynolds News and then from 1943, and, for the next fifty years, in the pages of the Daily and Sunday Express. Throughout the turmoil and destruction of the Second World War, the post-war years of austerity and national decline through to the swinging sixties and the changing face of modern Britain, Giles's cartoons amused a nation in desperate need of a laugh and a giggle. Over the decades, his cynicism for authority and genuine sense of mischief led him to gently poke fun at our country's foreign and domestic travails. Even today, despite having passed away in 1995, the demand for Giles's cartoons remains insatiable. A Giles Annual is still published every Christmas and year on year it continues to sell out in bookshops across this country.
Most prominent British cartoonists are often best remembered for having created a famous character or characters that have entered British newspaper folklore. For example, Giles's predecessor at the Daily and Sunday Express, Sidney Strube became synonymous for his bowler hatted pince-nez wearing 'Little Man' who carried an umbrella and represented the hard-pressed taxpayer. In inter-war Britain Strube's 'Little-Man' was considered the very personification of the "man in the street". David Low gained a world-wide reputation for creating 'Colonel Blimp' a symbol of diehard stupidity, whilst many still remember Victor Weisz 'Vicky' for creating 'Supermac'; an ironic depiction of former Prime Minister Harold Macmillan as a doddery superhero. Giles is different in respect to these other cartoonists in that he is best remembered for creating not just one character but a whole distinctive group of them, the 'Giles Family'.
How and why did the Giles Family first come about? During the war, Giles had had great fun with his mocking depictions of the Nazi and Fascist leaders. However, by the end of that conflict Giles realised that most of his favourite wartime characters were now dead. 'I sure hated to see old Musso go", Giles later admitted: "He was half my bloody stock-in-trade." So out of necessity he needed a new cast of characters who would represent post-war Britain. Giles decided to deliberately steer clear of drawing political cartoons as he was completely disinterested in politics and had inherited a distaste for politicians from his father. He also found caricature particularly difficult in that he struggled to capture a good facial likeness, which is somewhat essential when it comes to depicting political figures. As his wartime cartoons had made fun of the Axis leaders by presenting them as a peculiar disfunctional family, reacting to circumstances beyond their control, he thought to himself, why not create an alternative family of characters that as far as he was concerned, would represent a typical British family. According to the cartoonist himself:
"All my work for the Express up until then had been in wartime. All the characters were wartime characters, or people caught up in the war. Suddenly they were gone. I had lost them, Hitler, Mussolini, disreputable little Franco was still there, of course, Himmler, Goering, Goebbels. I remember writing to my wife, Joan, from Europe where I was a war correspondent. At the end of the letter there was a PS which said: 'I've just lost my best character, Musso.' I drew the Family as something which could take their place."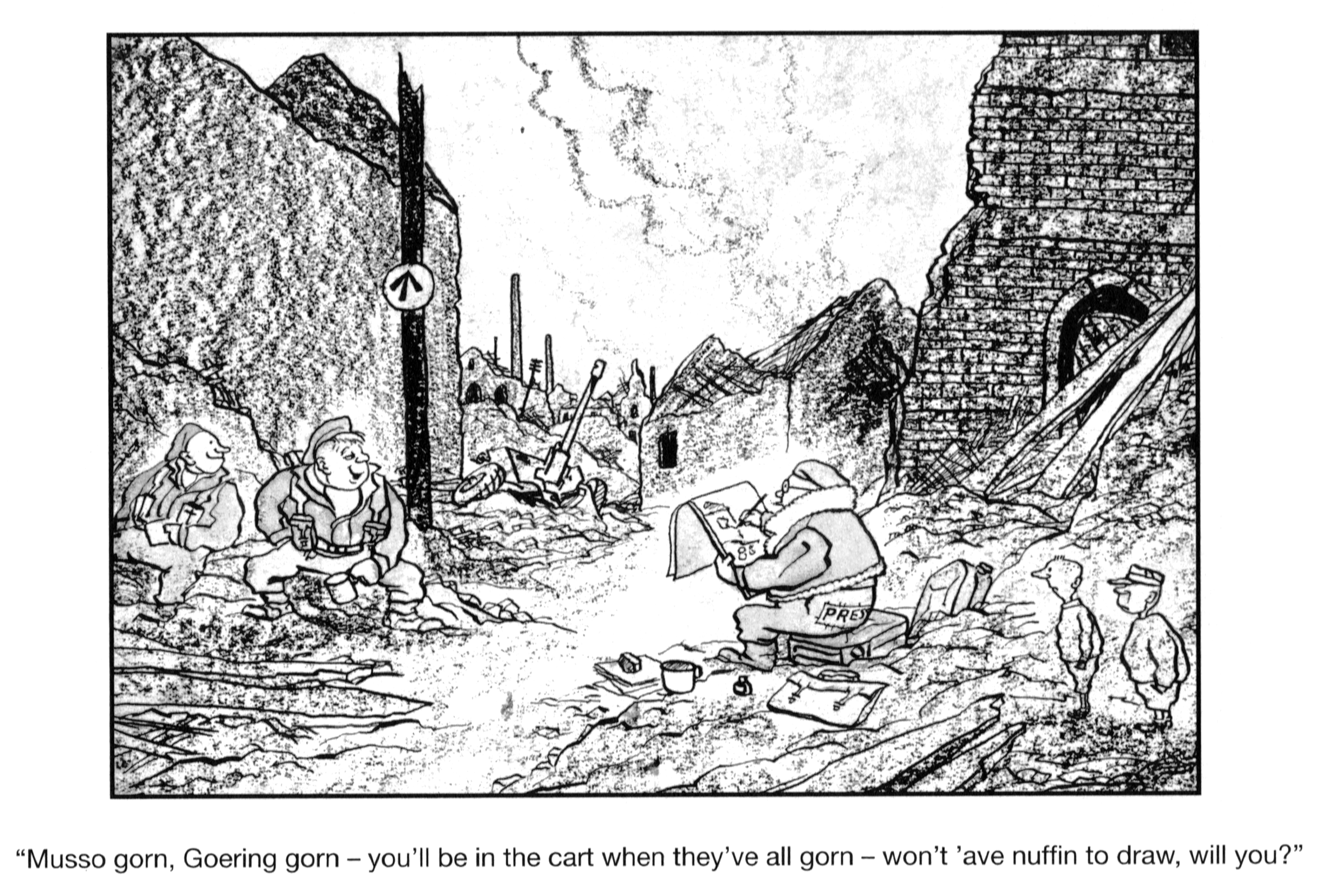 All Giles's favourite characters were now either dead or in prison.
The initial focus of the new family was George, one of Giles's wartime soldier characters, who, having demobbed and returned to civilian life, became simply known as 'Dad'. The first recognisable appearance of the Giles Family was in the Sunday Express on 5 August 1945. From then on in, they were shown reacting to the post-war difficulties of an exhausted cash strapped war-torn Britain. The Family proved so popular that in August 1947, the Daily Express ran a series of cartoons introducing the different characters to its readers. In some ways the slightly sinister looking family seems to have been partly based on the Adams Family cartoon series, drawn by Chas Addams, which had been running in the New Yorker since 1938. After that, as Giles recalled, "the Family took on a life of its own almost immediately".
Despite all the different family members young and old, it was to be Grandma who not only became the notional head of the 'Giles Family' but easily the most memorable and infamous character. Giles enjoyed drawing the curmudgeon-like figure, giving her his own surname, and it is from 'Grandma Giles' that we know the name of the whole family. He liked to claim that she was an amalgam of both his grandmothers, claiming the character: "represents all my grandmas, who were strictly the bull's-eyes-and-embrocation variety." However, the cartoon 'Grandma Giles' was absolutely nothing like them. In fact, the cartoon character Grandma was an old battle-axe from the start, very much like Giles himself, both in temperament and in appearance. In later years, Grandma became, in essence, Giles in drag.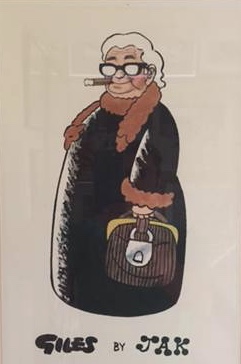 Giles dressed as Grandma by fellow cartoonist Raymond Jackson 'JAK'
The growing physical resemblance was certainly noticed by his friends, and Giles himself admitted to being "like Grandma's brother, only worse." They certainly shared many characteristics, such as a deep hatred of traffic wardens and other petty officials, and on one occasion Giles drew a cartoon which showed himself looking in the shaving mirror, with Grandma looking back. According to former Daily Express Journalist, Peter Tory: "Perhaps, unconsciously, Carl based Grandma on himself. At his grumpiest and most difficult he is certainly closer to her than he is to any of his other characters. Certainly, when his mouth takes a down-turn and his glasses angrily reflect the light and his short white hair appears to bristle with irritation, all you would need to add would be a black, neck-high frock, a handbag and an umbrella and you would have Grandma." In 1977, the organisers of the Ipswich Carnival, had asked Giles about using his iconic Grandma character on a parade float. "May I suggest you find a man for Grandma," the cartoonist advised. "They're always more effective than using a female."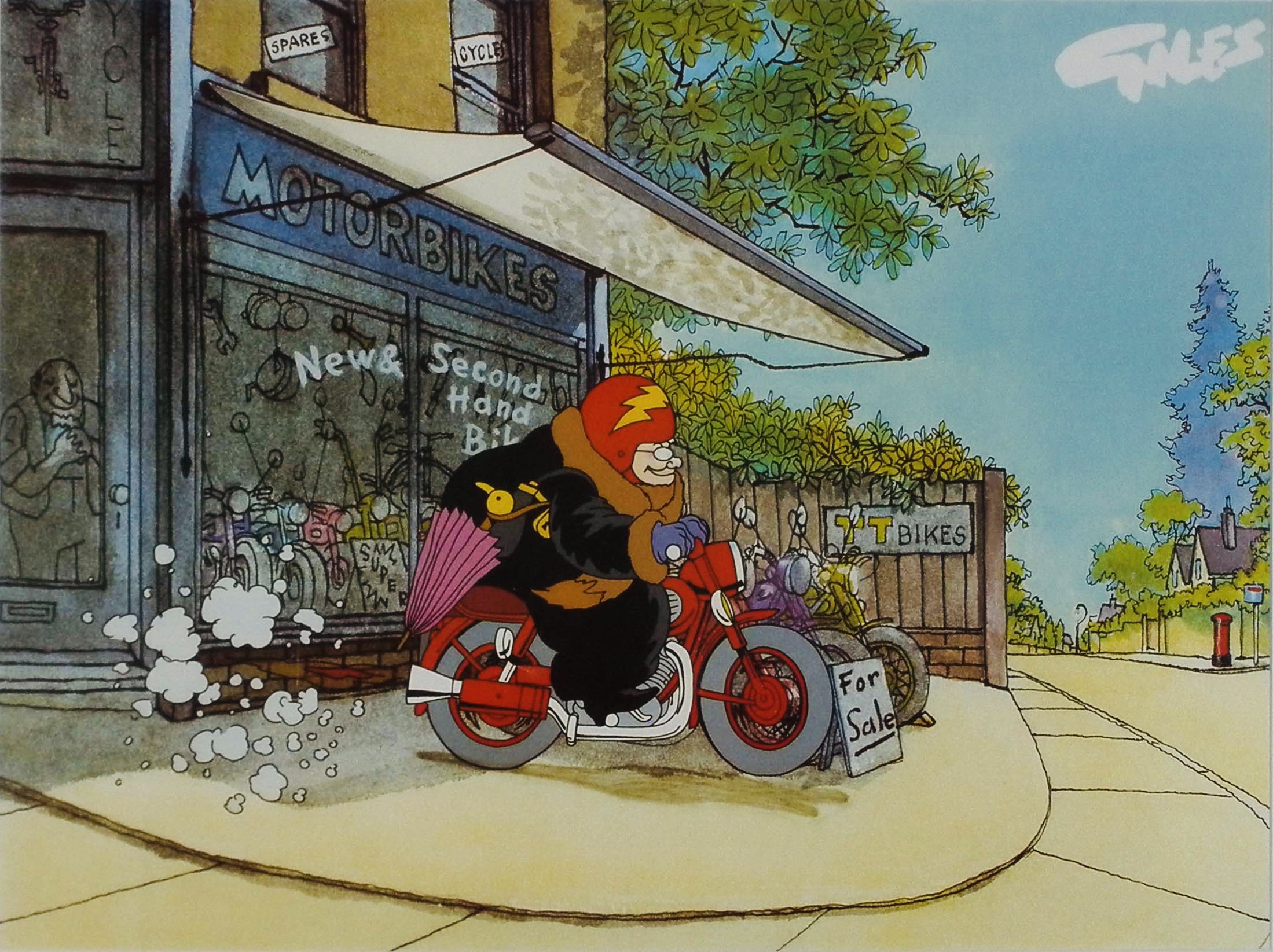 Carl Giles's depiction of Grandma was, in essence, himself in drag.
Giles liked drawing her because she allowed him to say things that he would otherwise have been unable to say for himself. "From my point of view she's the perfect instrument for getting away with murder", he confessed: "I can say what I like and, as long as I put the words in her mouth, the chances are I'll get away with it." Thereupon Grandma came to embrace every form of extreme opinion, from fervent Royalism to revolutionary socialism, she even had a portrait of Lenin on her bedroom wall. A strict disciplinarian, she actively supported capital punishment and was very much a member of the hang 'em and flog 'em brigade. As Giles explained, she could be very aggressive and "violence, perhaps, is her keynote."
As Giles and Joan had decided not to have children, they, over the years, tended to see Express readers, who followed the Giles Family, as part of an extended family, and kept all their letters and correspondence. This relationship developed into the 'family' of the Giles cartoons despite the fact that the 'Giles Family' was portrayed as a working-class household living a comfortable middle-class existence, and as a result represented an odd bunch of characters. Throughout the decades, the Giles Family largely reacted to the social, political, and economic news stories reported in the Daily or Sunday Express. Readers saw in it a reflection of their own lives, and thus part of what to them reflected the frustrations of the real world. "If the Giles cartoon is vintage," wrote one commentator in 1952, "no 8.30 rush hour seems quite so black; if his comment is dark as the weather, our grumbles are confirmed, and we feel at liberty to beef a little more loudly with an easier mind."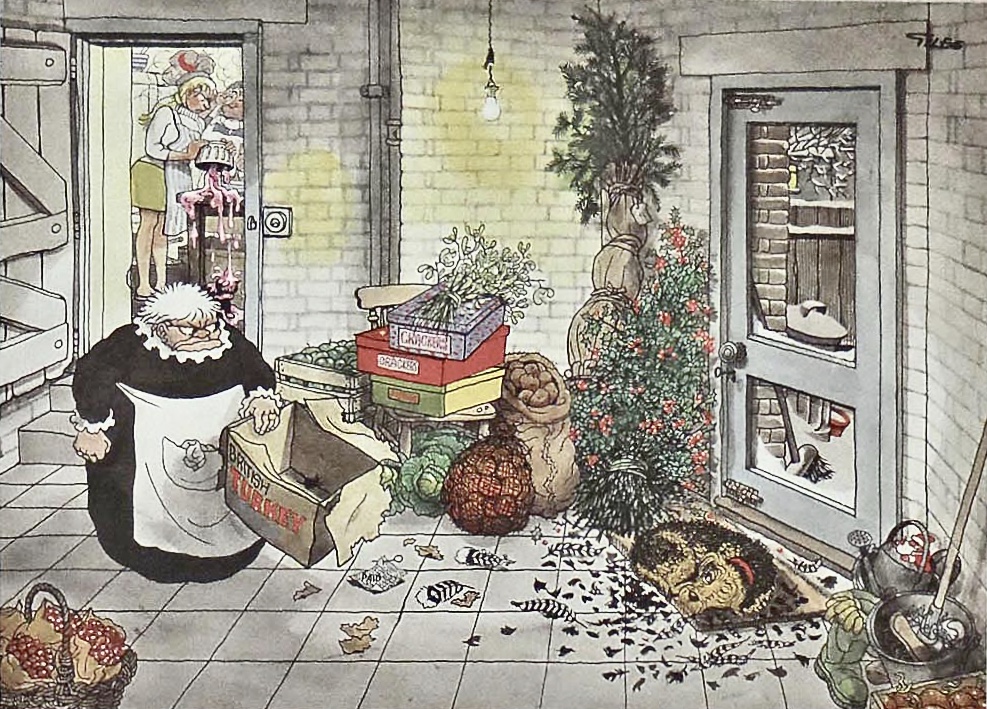 The Giles Family at Christmas
The Giles Family in all appeared in more than two thousand individual cartoons. The most popular characters, appearing in some 1,400 cartoons each, were, of course, Grandma and grandson Ernie, who had first appeared in his own cartoon strip named 'Young Ernie' as long ago as 1938 in Reynolds News. Over fifty years, until the cartoonist's retirement, Giles's family did not change in the slightest. Every member of the family remained the same age, with the same characteristics and the same roles within the group. Nothing quite encapsulated the typical British family in post-war society like Giles's unique and most memorable version of it. As Dennis Norden commented in 1979 "As I grow older… there tend to be more and more mornings when you look through the newspaper and realise that the only credible figure left in British public life is Grandma."
3) Carl Giles at Christmas
For nearly fifty years, Carl Giles personified Christmas in Britain. His cartoons in the Daily and Sunday Express became as much part of our country's festive tradition as Santa Claus, Christmas trees, plum pudding, crackers and the Queens Speech. Readers loved to follow the fun-filled yuletide antics of Grandma and the rest of the Giles family. In doing so, this exceptional cartoonist made Christmas for so many literally the season to be jolly. To reinforce Giles's impact at this time of year, his annual proved the perfect stocking-filler. It was of no surprise that it reached the Christmas best seller booklists every year. Even today, twenty-five years after the cartoonist's death, the Giles Annual remains as popular and hilarious as ever.
The idea of reprinting Giles's cartoons as a Christmas annual began when he was at the sunday newspaper, Reynolds News, during the Second World War. In November 1940, a reader had written to the editor to say: "I know all about the paper shortage but what about a Giles Annual? God knows we need some sort of a Xmas-box of this kind in these grim days, to send to people." However, the newspaper did not have the readership or the finances to do publish such an item. After the war, Express Newspapers decided that Giles growing popularity warranted a collection of his work. They had had great success beforehand with his predecessor Sidney Strube, who had had an annual published of his Daily Express cartoons every year since 1926. As a consequence, the first Giles annual appeared in 1946 and has continued to be published annually ever since.  In fact, as we speak the 2021 has just entered bookshops across the United Kingdom. For Giles one of the great delights of making the annual was creating the front and back cover. These beautifully crafted full colour covers, which were always meticulously detailed, were obviously a labour of love. They usually took Giles several months to complete, often involving many revisions and additions. In 1963, it was of no doubt unsurprising that he was furious when the finished artwork for the 1964 cover was turned down because it was considered too downbeat and lacking any sense of festive spirit. Giles, like his most infamous creation Grandma, could be quite a curmudgeon himself. For the front cover, as shown below, Giles had drawn the younger members of the Giles Family and their friends dancing to the latest hits of the 'Swinging Sixties' much to the consternation of Grandma and Dad. On the back cover, Grandma and Dad had turned the tables on them by turning the record player off whilst Dad sang, I assume off-key, an old song to the accompaniment of Grandma playing the violin. The effect clears the room of all teenagers in the house. An angry Giles had to go off, with little time to spare, and create something not only a little bit more festive, but slightly more cheerful too.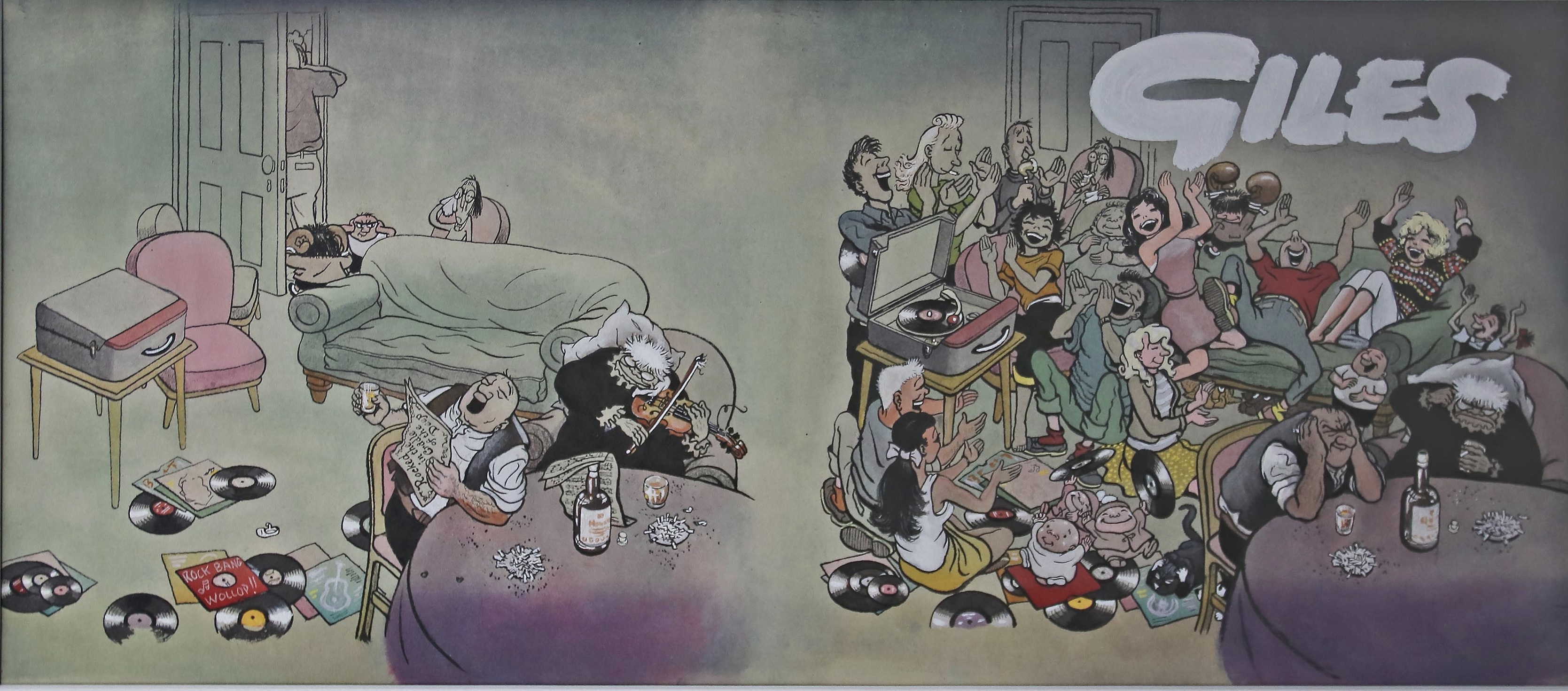 The Carl Giles cover that was never used.
For Giles, Christmas was always a busy and hectic time as his talents were in much demand. This was mainly in the shape of producing cartoons for Christmas card covers. Apart from a few commercial commissions for organisations such as W.H.Smith, the Savoy Hotel, and Sainsbury's, the vast majority of commissions were for charities. In fact, his non paid work took up more and more of his time. In 1978, he admitted that drawing his three Express cartoons were no longer accounted for the bulk of his work: "The rest of the week is given to answering readers' letters etc. and the endless charity drawings which I believe to be an important part of the job." In fact, as he admitted, "I spend more time in the studio working for charities than I do earning my living." Some of the many charities he regularly produced Christmas card designs for were The Helicopter Club of Great Britain, National Association of Boys' Clubs, the Royal Ocean Racing Club,  Royal Harwich Yacht Club The Coldstreamers Association and St Johns Ambulance.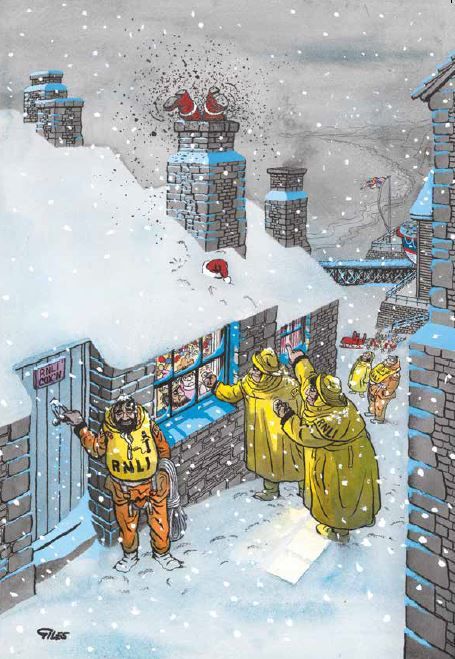 One of Giles's RNLI Christmas cards.
Being a keen sailor, one of the closest charities to his heart was the work he did for the Royal National Lifeboat Institution (RNLI). From 1970 onwards he produced a full-colour RNLI Christmas card each year. The routine was unrelenting, as discussions for the next design began only a few weeks after Christmas, and Giles was expected to complete the next full-colour design by the following March. But his efforts paid huge dividends as in 1972 the RNLI sold 240,000 copies of its Giles Christmas card. As a thank you, they gave him a special Public Relations award for his fundraising work. His subsequent suggestion of an RNLI collecting-box shaped like Grandma "I would gladly design one for you" was not taken up, but his cards were a good substitute. Giles' design for the 1980 RNLI Christmas card, Santa and his reindeer being rescued by a lifeboat sold 590,000 copies and raised £50,000. By 2010 it was reported that his Christmas card designs were still raising annually over £125,000 for the RNLI.
In 1949, Giles agreed to allow an original cartoon he had given to Prince Philip, to be used by the Prince as a personal Christmas card. Surprisingly, it did not have a Yuletide theme but was instead a dig at the Labour Government's nationalisation programme. The black and white cartoon, published on 12 June, was firstly carefully coloured in by Giles before being sent to the Palace. Then on 17 October, Prince Philip asked if the cartoon could be used by both himself and the National Playing Fields Association for a Christmas card. He, of course, agreed. Giles's proud mother, Emma, wrote to him stating: 'What an honour Phillip wanting the cartoon to be used as a Xmas card. Of course it was a splendid cartoon.'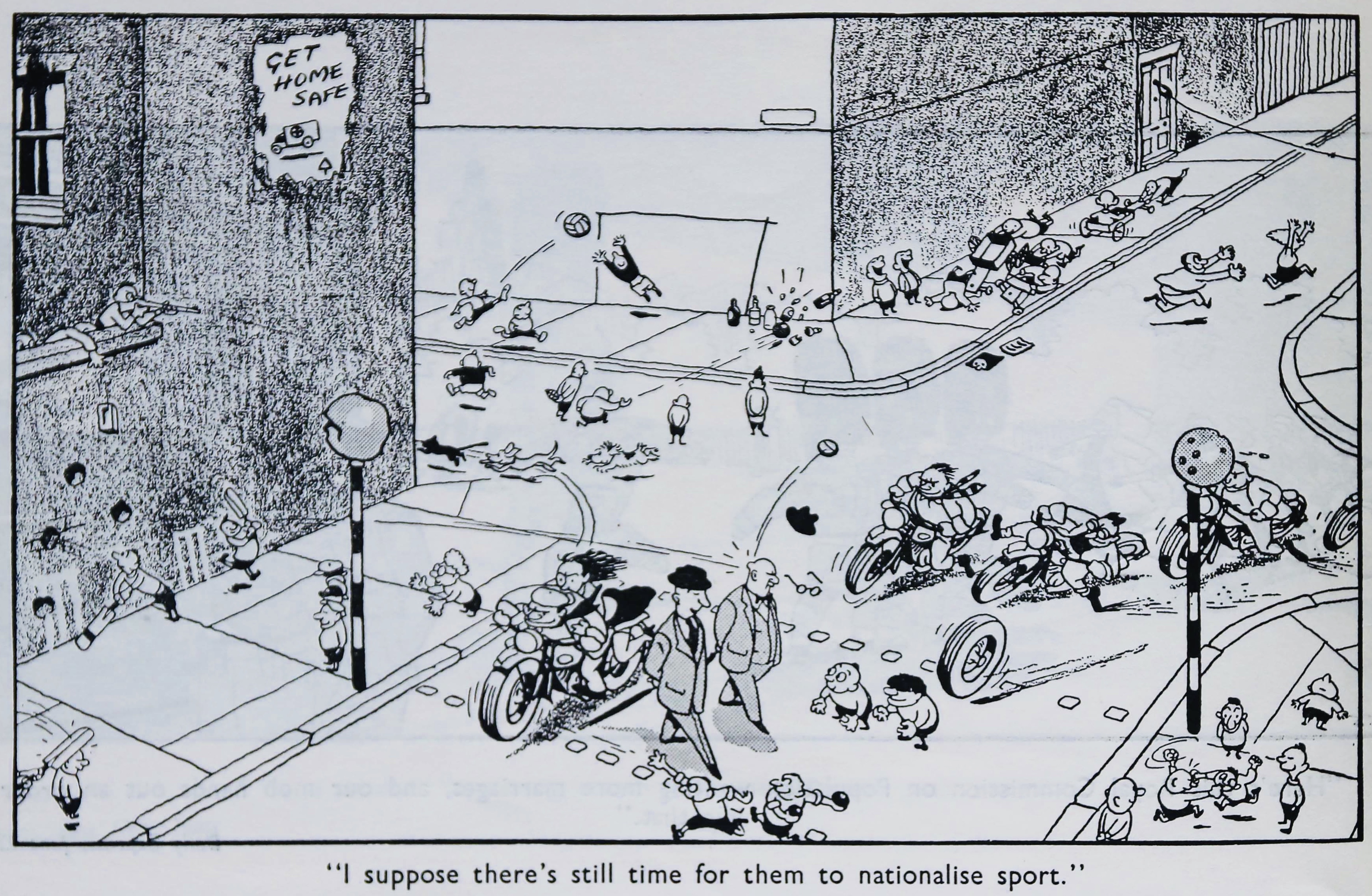 The Giles cartoon given to Prince Philip and then used by the Queen's husband to front his Christmas card.
As we know, Giles had a reputation for being mischievous especially in his treatment and depiction of Father Christmas. From Santas stealing presents from W.H.Smiths to Santa getting into fights, speeding along British roads in his sleigh or breaking up rocks in prison, the giver of presents was certainly a taker of punishment from the cartoonist's vitriolic pen. Probably the naughtiest depiction Giles did was in his 1982 menu design for the Saints and Sinners annual Christmas luncheon. The Saints and Sinners is an old gentlemen's club for media, entertainment and political types which hosts a legendary, annual Christmas luncheon at The Savoy. The menu showed a contented but dishevelled looking Santa coming out of what appeared a disreputable massage parlour.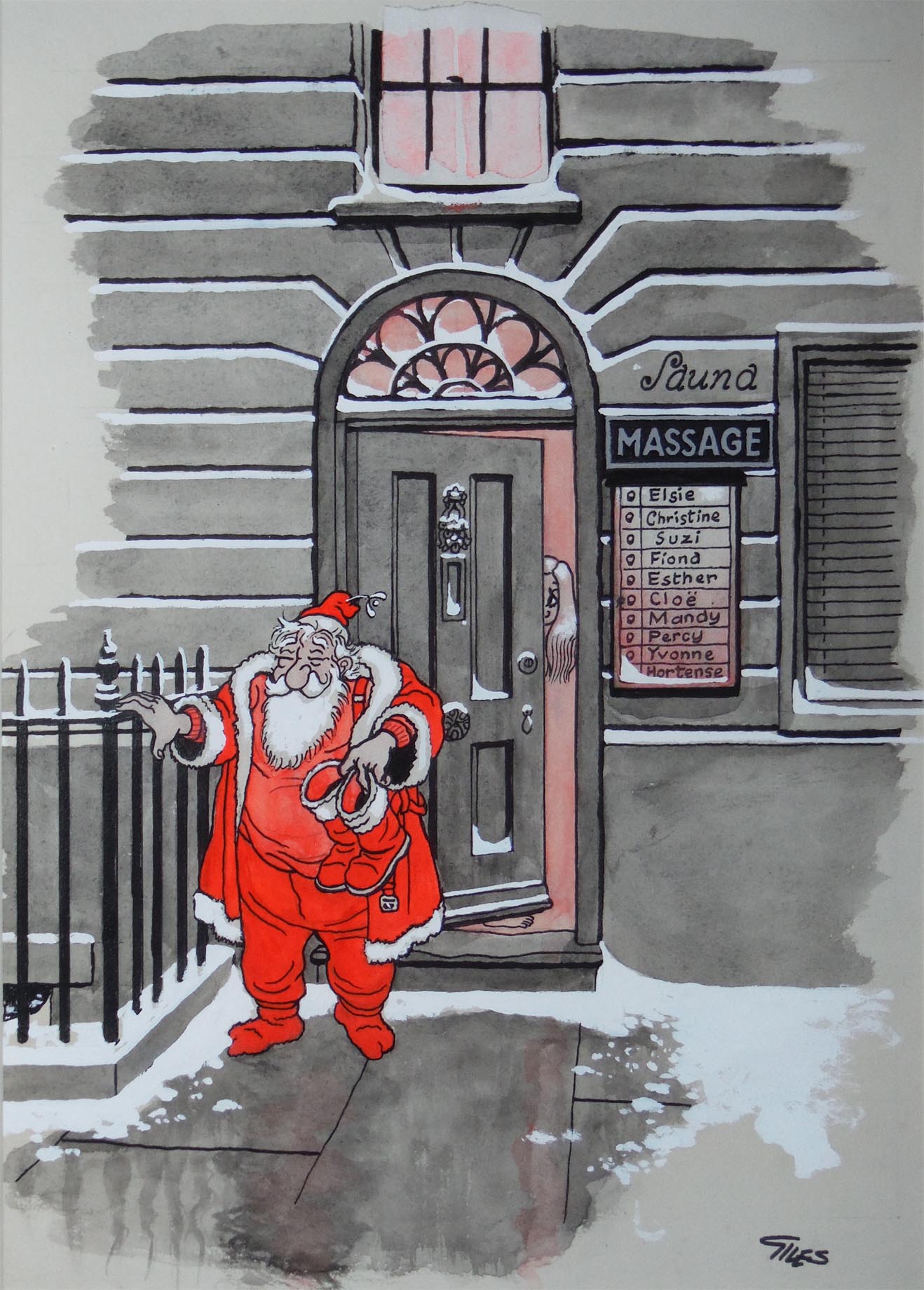 Carl Giles's mischievous take on a very naughty Santa
Probably the saddest and most poignant aspect of Christmas for Carl Giles took place in his twilight years. This was the passing of his beloved wife Joan who died on Christmas Day 1994. Giles had been devoted to Joan and had relied upon her heavily. According to Giles's sister Eileen, "Giles would be completely lost without her. She is not only his wife but secretary, too. She runs their home and business side of his life with great efficiency. Her energy is unbounding, to sit down and relax is almost an impossibility for her." Giles himself said of Joan: "She's my secretary, nursemaid and everything else thrown in. The cartoonist never fully recovered from her loss and he died just over eight months after her at Ipswich Hospital on 27 August 1995 aged 78.