George Butterworth of the Daily Dispatch
Dr Tim Benson on the cartoonist for the Daily Dispatch, George Butterworth (1905 – 1988)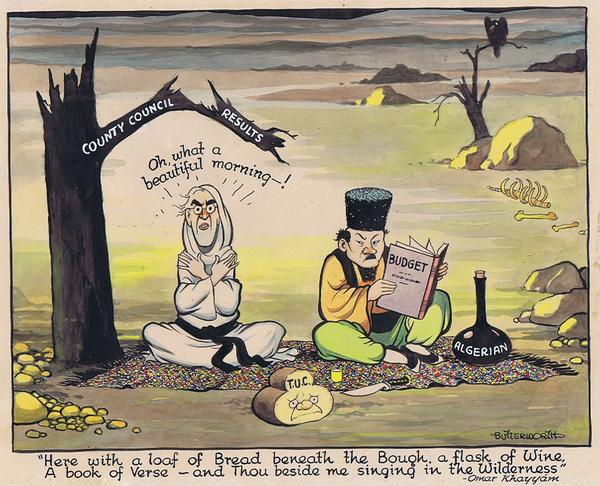 "HERE WITH A LOAF OF BREAD BENEATH THE BOUGH, A FLASK OF WINE, A BOOK OF VERSE - AND THOU BESIDE ME SINGING IN THE WILDERNESS." - OMAR KHAYYAM
On 5 January 1905, in the village of Brinscall, near Chorley Lancashire, Edith Butterworth gave birth to her third child, a son who was later christened George. Edith and her husband Frederick already had two boys and had been hoping this time for a daughter. A younger brother, John, would later follow George. George's father, Frederick, had been a gifted gymnast in his youth, winning a gold medal for Britain at the parallel bars at the 1896 Olympic Games in Athens, Greece. He became superintendent of the local swimming baths. Later on Frederick managed his German brother-in-law's bicycle warehouse in Deansgate, Manchester where they sold imported German bicycles by the name of Bluemels.
Edith and Frederick were staunch working class Tories and this inevitably influenced George's political affiliation.  Even though there had been no knowledge of any artistic merit in the family, George turned out to be the exception, showing real promise from a very early age. However, when George told his parents he wanted to become an artist they dismissively suggested that he should instead take up painting and decorating as a profession when he left school. This may have been suggested because George's eldest brother was already working as a builder and decorator. Despite his parent's apparent lack of ambition for him, at the age of 16, George gained a place at the Stockport School of Art. From there he soon received a scholarship to study at the Manchester School of Art. The course at Manchester included classical art where he also took extensive courses in anatomical and life studies. Some of his laid open anatomical studies even impressed local doctors.
In January 1922, whilst at college, George found useful part-time employment as a sports cartoonist and illustrator on the Stockport Advertiser and the Cheshire Daily Echo, two local newspapers. He was paid the princely sum of 15 shillings for each cartoon that was published. George was given the opportunity to cover local sporting events for both papers which he greatly enjoyed both from the point of view of both drawing and as a spectator. It became second nature for him to sketch the footballers and cricketers from the press stand and boxers from a ringside table. George was also required to draw maps, explanatory diagrams, profiles of important people in the news and a host of other subjects, because as George described it, "my work was often used in place of photographs in those days".
In 1923, the Manchester Evening Chronicle, which had been one of the earliest newspapers to feature cartoons, spotted George's work and offered him, at the tender age of 18, a full-time position as a sports cartoonist, which he gratefully accepted upon completion of his studies. He signed his work initially as 'Gee Bee' but would later go on to sign just his surname like the other leading cartoonists of the time. George greatly admired the work of the leading cartoonist of the time, David Low. He, not surprisingly, disliked Low's support for the Left in British politics.  For that, George much preferred Poy, Strube and Illingworth. He also began to illustrate stories and caricatured stars of stage and sport for the Kemsley group of newspapers, which included the Daily Dispatch, Sunday Chronicle and Empire News.
In 1933, George was approached by a wealthy local businessman and clothing manufacturer by the name of James Gibson who wanted him to start drawing cartoons for the Manchester United programme. A year earlier, Gibson had single-handedly rescued Manchester United from financial collapse and had immediately given £2000 of his own money to pay the players outstanding wages. He contributed over £40,000 towards paying off the club's huge debts. He not only funded the rebuilding of Old Trafford but also the setting up of the club's youth system, which went on to produce so many great players. Gibson is commemorated by a plaque outside Old Trafford at the railway bridge on Sir Matt Busby Way. As an avid fan, George was delighted and accepted Gibson's offer. It meant George was guaranteed a seat in the press gallery for every match. The dressing room was also now open to him to meet and observe the players close up before and after a match. Of course, as a sports cartoonist, it was grist to the mill for him. George would go on to draw cartoons for the Manchester United programme for 25 years excluding the war years when the Football League programme was disbanded for the duration. Many of the original drawings now adorn the Manchester United museum at Old Trafford.
In the early 1930s, George met and quickly fell in love with Betty Wharf nine years his junior. When George brought Betty home and told his parents he wanted to marry her, they disapproved believing the girl was far too young to get married. Betty's parents were also of the same opinion.  Undeterred, George and Betty secretly got engaged. Unbeknown to George's parents, they married a year later on 2 July 1934. Having tied the knot, they then informed his parents of their marriage. The newly weds bought a plot of land in Bramhall in Cheshire and built a house there where they lived for the next 23 years. George and Betty soon had a family with the birth of Tony on 3 September 1935 and four and a half years later a daughter Anne on 21 February 1939.
In the same year as his son was born, George was offered a position as sports cartoonist on the Daily Dispatch. The paper had a circulation of approximately 500,000 readers, many of whom were staunch working class Tory voters which would have suited George down to the ground. The paper's premises in Withy Grove in Manchester City centre became the biggest printing house in Europe and continued to print right into the late 1980s. The buildings still exist, having been transformed into the Printworks entertainment and leisure complex.
The resident political cartoonist on the Daily Dispatch, was an Australian by the name of Sam Wells. Wells, who had supported Neville Chamberlain's policy of appeasing Hitler, felt that Britain's chances of survival were slim after its declaration of war on Germany in September 1939. As a consequence, Wells's defeatism led him to returning to his country of birth in the hope of escaping the war. For George, who was asked to take over from Wells, it was an opportunity of a lifetime and a lucky break as he would have been redundant as a sports cartoonist in war-time. Here was not only an opportunity for him to record in visual terms the dramatic events of the Second World War, but also an opportunity to do his 'bit' by raising the morale of his readers. Wells, who was friendly with George and Betty, tried to encourage them to join him in emigrating to Australia, but they would have none of it. Wells returned to Australia and was employed as the political cartoonist for the Melbourne Herald from 1939 until 1960.
On 9 September 1939, George's first political cartoon appeared in the Daily Dispatch. At the outset, his cartoons lacked vigour and were not well drawn. His occasional use of wax crayon made his cartoons appear unnecessarily grim and his caricatures of the main protagonists of the war, such as Hitler, Goebbels and Mussolini were also not particularly eye-catching. However, over the months as he got into the groove, the style lightened and his ideas and compositions became more inventive. His caricatures became sharper and more distinct. According to his wife Betty, George initially found the switch from drawing lightly humourous sporting cartoons to the serious political wartime ones a great strain. George was expected to draw a six cartoons a week and regularly one for the Sunday Chronicle. Coming up with the ideas was the greatest challenge. According to George
There are plenty of people who can draw. What a cartoonist has got to have is ideas.
Fortunately George not only enjoyed the challenge but admitted that he 'always seemed to have plenty' of ideas. Often he would come up with eight or more before he felt he had a winner. He kept a pencil and notepad by his bedside as he would invariably wake up in the middle of the night with an idea that immediately had to go down on paper before it was forgotten. According to Betty:
Unfortunately when going to bed he could not sleep unless he had had two pints of beer. Then he would be up at three or four in the morning with his brain taking off with loads of ideas.
Despite his recent elevation to main cartoonist on the Daily Dispatch, George's strong patriotism led to him trying to enlist for military service. He was rejected by all three services because they realised he could serve his country more effectively as a cartoonist rather than as a serviceman. Like cartoonists David Low and Sidney Strube, George did his 'bit' by volunteering to become an ARP warden. This was a particularly dangerous occupation as Manchester was then suffering heavy daily bombing by the Luftwaffe.
George, like other cartoonists before him notably Strube, J C Walker and Poy, created his own 'man in the street' for his cartoons. His role was to be that of the observer of events and was often featured suffering directly from the machinations of politicians. He made his appearance for the first time on 23 April 1940 and became known simply as Butterworth's 'Little Man'. The Little Man's appearance was similar to that of a bank clerk and apart from his moustache, did not resemble his creator at all.
George's merciless ridiculing of the enemy in the pages of Daily Dispatch was soon noticed at the highest levels in Germany and Italy. Whilst his name was being put on the SS hit list for those to be dispatched upon the defeat of Britain, Mussolini was referring to Butterworth as a "dangerous enemy". Described by Betty as "a quiet, shy and modest man who did not want publicity," it was inevitable that he found it difficult when the spotlight was turned on him because of his work. 
.
The proprietors of the Daily Dispatch, William and Gomer Berry (enobled as Viscount Camrose and Lord Kemsley), soon became aware of George's success on the paper and offered him the position of cartoonist on the Daily Sketch; a national newspaper with a much larger readership. George was flattered, but it would have meant moving south to London. He had lived and worked in his native Cheshire and Manchester all of his life and did not want to uproot the family. Unlike many of the leading cartoonists in Britain at the time, George was not ambitious in this way otherwise he may have become one of the true greats of British cartooning in the 20th Century. George was later to turn down overtures from the News Chronicle who also wanted him as their main cartoonist. In 1962, he was unbelievably offered the opportunity to replace Vicky, who was then at his prime, on the Evening Standard by Lord Beaverbrook. George turned him down. Beaverbrook also offered the then leading cartoonist in Canada, Duncan Macpherson, the job, but he also turned it down. Vicky remained at the Evening Standard until his suicide in February 1966.
The Daily Dispatch produced two annuals of George's cartoons both entitled HITLER AND HIS CRAZY GANG between 1941 and 1942. The demand was enormous and they sold out within weeks of publication. In the introduction to the book it read:
This brilliant young artist has quickly established himself as a great favourite by the adroitness and punch of his cartoons. GOEBBELS could not sign him at any price!
In 1942, the issue of Malta's survival led to George's most prophetic cartoon of the war. Malta was of crucial strategic importance to the Allied North African campaign and has been under almost constant attack from Axis bombers and fighters since June 1940. When, in January 1942, Hitler ordered it should be "neutralised" in preparation for a German invasion, the Luftwaffe carried out hundreds of air raids on Malta, at one point averaging seven a day. On 9 April 1942, George's cartoon putting the Victoria Cross in front of the Island of Malta caught the public mood of the day. A week later on 15 April, Malta was actually awarded the George Cross by King George VI in recognition of the bravery of its people under siege. Of course, whether George's cartoon had had any influence or not we will never know.
Although the Daily Dispatch at one stage went down to just eight pages due to the war-time shortage of paper. Despite this, George's cartoons proved so popular that not only did his cartoons retain their page three position in the paper but also, unlike other cartoonists, the space for his cartoons was not reduced in size so as to fit in more news stories.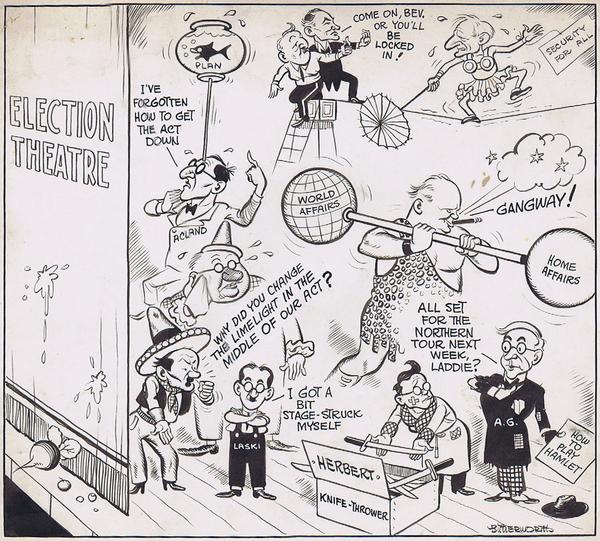 THE CURTAIN IS DOWN - EXCEPT FOR A SCORE OF SEATS.
As the war came to an end, George began to focus more on domestic politics and the much awaited general election; the first since 1935. (Image Churchill V) Being a staunch Tory Party supporter and a strong admirer of Winston Churchill, he put all his efforts into ridiculing the Labour Opposition during the election campaign. The then Labour Party Chairman, Harold Laski, became a popular target for George. However, Labour won by a landslide and Laski's niece wrote to George on the day of Labour's victory stating:
Dear Sir,    
Re: Labours Day – and how!!!!
As a relative of Prof. Harold Laski I think you owe him a public apology in the way of a cartoon in the Daily Dispatch. How about it? Congratulations on all your previous sketches.
Regards
Sybil Laski 
Undaunted, George spent the next six years ridiculing and holding to account Clement Attlee's Labour Government. George found plenty of material with which to attack the Government. Nationalisation, state bureaucracy, continual post-war shortages, food rationing and internal rivalries within the Labour Cabinet provided an endless supply of ideas for cartoons.  George's other focus throughout the post-war period was the growing distrust and antipathy between the Western Powers and the Soviet Union. The Cold War as it became known led, predictably to Stalin becoming a constant figure of ridicule in George's cartoons. A number of George's cartoons found themselves syndicated around the world especially in America where his cynical view of the Soviet Union was much appreciated. 
In January 1953, the Sports Editor of The Times, Pat Murphy, took over as Editor of the Daily Dispatch. At the beginning of March, Murphy called George into his office and told him that he no longer wanted political cartoons in the paper. Murphy stated:
We have had enough of the war and the cold war. The readers want something fresh more family orientated. I'd like you instead to do a strip cartoon similar to that of the Gambols which is proving a great success in the Daily Express.
So George, who did feel that, to a certain extent, political cartoons had for him lost their excitement, went away to fathom out how this new strip would work. He eventually came up with an ordinary husband and wife and their two kids who were not too dissimilar to his own family. The Daily Dees as they became known made their first appearance in the Daily Dispatch on 23 March 1953. They were an instant success. Interviewed in 1958, George stated:
The family's adventures might happen to you and inspiration comes from chance remarks of domestic situations in which naturally enough Mrs Dee usually has the last word. My greatest fans are the ladies and most married men recognise the inevitable feminine ascending in the domestic sphere which compares with their own experiences.
Years later when the Daily Dispatch merged with the News Chronicle, the Daily Dees continued in that paper unaltered by the change. However, when in 1959 the Daily Dees were dropped from the Southern edition of the paper, there were howls of protest from readers. "If they have gone elsewhere" wrote one reader, "please tell us so that we can follow them." Another reader wrote in stating that the "Dees used to make us smile. Now there is nothing in the paper to make us smile." When in 1960 the News Chronicle folded, the Daily Dees became a regular feature in the Daily Mail.
On 6 February 1958, 23 passengers including eight Manchester United players lost their lives after an air crash in Munich. With his close association with the club, George was absolutely devastated. He had known all the players well that had died especially Duncan Edwards and went to all their funerals. Returning home from the last funeral he told Betty that he could no longer draw cartoons for the Manchester United programme. The reason being as he told her:
I can't make fun of things at the club. The crash has knocked it out of me. I can't do it anymore.
In 1968 the Daily Mail dropped the Daily Dees despite its popularity with the readers. George considered it was time to retire in any case and moved down with Betty to Bridgewater, Somerset, near to where their daughter now lived. He took immediately to oil painting and produced a number of technically stunning landscapes which slowly adorned every room in his house. His other passion was gardening especially growing pumpkins and marrows. George passed away in Haslemere on 17 October 1988. According to his wife Betty, he was 'a wonderful man to live with and he had a terrific sense of humour'. This book is therefore a testament to his great skill and humour as a cartoonist and to some he remains probably the greatest cartoonist never to have worked on a national newspaper.