The Man who hated Pooh: The political cartoons of Ernest Shepard
THE MAN WHO HATED POOH: THE POLITICAL CARTOONS OF ERNEST SHEPARD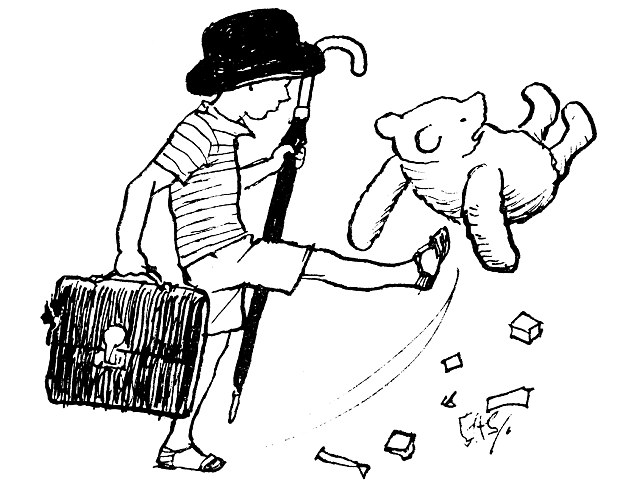 E.H. Shepard believed that much of his later work as an artist had been sabotaged by 'that bear'.
The man whose drawings brought Winnie the Pooh to life spent the last years of his life hating the bear with very little brain. The biggest regret in EH Shepard's life was agreeing to illustrate Winnie the Pooh for AA Milne, as it resulted in the bulk of his work, even during his lifetime, being completely overshadowed. In his later years, Shepard was heard to describe Pooh as "that silly old bear" and resented his close identification with Milne's books. Although he is best remembered today as the man who drew Pooh, Shepard himself saw these illustrations as very much a sideline. Instead his main occupation, from 1921 until 1953, was working as one of Punch magazine's leading political cartoonists.
Ernest Howard Shepard was born in St John's Wood in London on 10 December 1879. He found a talent for drawing at a young age and won a scholarship to the Royal Academy. Although at first working as a painter, Shepard began to contribute joke cartoons and illustrations to several periodicals and journals. Punch cartoonist Linley Sambourne noticed his work and recommended he send in cartoons for publication. From his first published cartoon in 1907, he became a regular contributor until 1953.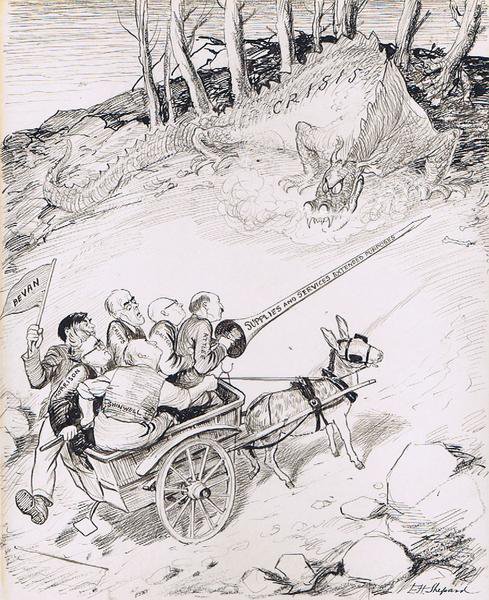 Ernest Shepard felt his work had been overshadowed by the bear. During the First World War, Shepard served in France, Belgium and Italy. He was awarded the Military Cross for bravery in the field and by the end of the war reached the rank of major. Throughout the war in the trenches, he continued to draw sketches and illustrations of life at the front.In 1921, Sir Owen Seaman, editor of Punch, formally invited Shepard to join the Punch "table", which meant an appointment to the regular staff. Shepard succeeded Leonard Raven Hill as second cartoonist in 1935 and then became first cartoonist after Sir Bernard Partridge's retirement in 1945. According to his granddaughter, novelist Penelope Fitzgerald, he was ill-suited to being a political cartoonist. "He neither found it easy to get a likeness nor could he manage the sheer indignation which gives political satire its weight."
However, RCG Price, in his history of Punch, believed that with Shepard's arrival "the rest of Punch began to look static". Shepard's political cartoons are often full of literary allusions - with visual references to Sir John Tenniel's illustrations for Alice's Adventures in Wonderland and for novels by Charles Dickens. His love of animals led him to include them as part of his composition wherever possible in his cartoons. From the 1930s and through to the gruelling wartime years of the 1940s, Shepard's humour remained gentle and uplifting. According to cartoonist John Jensen: "Shepard moved from strength to strength, increasingly able to impose his quiet humour on otherwise grim and humourless topics." When author AA Milne asked EV Lucas, another member of the Punch table, whom he would recommend to illustrate some children's verse, Lucas named Shepard. But Milne was reluctant to use Shepard, believing he did not have the style of draughtsmanship he wanted. However, when Milne was finally persuaded to use Shepard in 1924 to illustrate his poems, When We Were Very Young, he was delighted with the result. So when it came to illustrating Winnie the Pooh, Milne insisted that Shepard got the job. Though Milne was always pleased with Shepard's work, the two men were never close. "I always had to start again at the beginning with Milne, every time I met him," said Shepard. In terms of his inspiration, Shepard's beautiful line drawings of Pooh were not taken from Christopher Robin's bear, but by Growler, the much-loved bear belonging to the artist's son, Graham. When the Second World War broke out, Shepard was over military age so he enlisted in the Home Guard. But his son Graham, serving in the Royal Navy, lost his life when his ship was sunk in the Atlantic.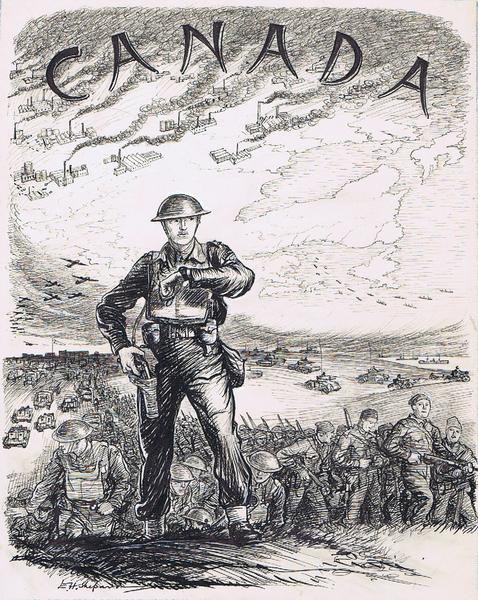 When in 1953, Malcolm Muggeridge took over from Kenneth Bird ('Fougasse') as the editor of Punch, he was determined to give the magazine a fresh look. The first change Muggeridge made was to sack Shepard as lead cartoonist, putting Leslie Illingworth in his place. On 24 March 1976, Shepard died aged 96 at Midhurst in Sussex. His pencil and pen and ink drawings are now highly regarded and sought after.
In the past 10 years, original EH Shepard drawings have realised record prices, especially those of Winnie the Pooh which now sell for tens of thousands of pounds.
Despite the fact that his political cartoons are in some ways far more interesting and have far more work in them, they sell for a fraction of the price.