Bruce Bairnsfather as Political Caricaturist
by Tonie & Valmai Holt
Bruce Bairnsfather is known for creating the character Old Bill and is best remembered for drawing the most famous cartoon of the First World War, "If you know of a better ole go to it". Bairnsfather was also a skilled caricaturist and political commentator. The popularity of his anti-hero came to the notice of the Establishment (who initially thoroughly disapproved of theold codger s degraded type of face& the very type which the Army is anxious to suppress ) and gave the Warwickshire Regiment Captain a unique title: Officer Cartoonist . His Fragments from France cartoons depicted life in the trenches as it really was dirty, wet, dangerous and uncomfortable but being met with stoical humour. These cartoons were published in the Bystander and had an astronomical effect on the magazine s circulation. The War Office Intelligence Department was forced to recognise Bairnsfather s potential for morale raising and agreed to a request from the French for him to do as much to raise the Poilu s spirits as he had lifted Tommy s. Then the Italians wanted him to heighten their country s awareness of their struggle against the Austrians along the Isonzo and the American Propaganda Department invited him to their sector in Alsace-Lorraine.
In February 1998, the Public Records Office at Kew released hitherto secret First World War files that contained one on Bairnsfather. At that time we were researching for the new edition of his biography and were intrigued to learn that there was far more to the Officer Cartoonist appointment than we had originally realised. It proved that the Earl of Onslow recruited Bairnsfather into the Secret Service in August 1916. Bairnsfather was then at the peak of his popularity and receiving hundreds of fan letters a week which he duly answered. The plot was that he would instil in his replies a propaganda sentence or subject for the day or the week . There were hopes that it may develop into a big concern . Sadly no further proof exists of the outcome of the scheme.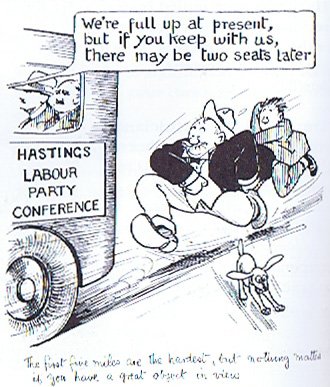 Bairnsfather s next probable foray into propaganda on behalf of the Government was his post-war play Old Bill MP. It was 1921 and there was much social unrest in the aftermath of the War. Bairnsfather put Old Bill and his cronies in a coalmine, from where he progressed through industrial strife s to Westminster. We were fortunate to find a member of the original cast, Clinton Davies during our research. He was convinced that the Secret Service (in the shape of Admiral Blinker Hall who had been Head of Naval Intelligence during the War and who was part of the syndicate who backed the venture) was behind the production, which had a strong propaganda message. Sadly the extensive production with a large cast ran out of money the following year and its message was short-lived.
As well as writing plays, and sometimes starring in them, doing variety and lecture tours and writing books, Bairnsfather was in much demand for writing articles and drawing cartoons for newspapers and magazines. He wrote a major article for the Daily Herald accompanied by a cartoon of Old Bill in an ole in before the Thiepval Memorial to the Missing, when it was unveiled by the Prince of Wales in 1932. The article strongly implied that Old Bill (by which he meant Captain Bairnsfather) felt that the true memorials were the thousands of war wounded who were still languishing in hospitals all around the country. Another typical commission was to comment on the 1934 Labour Party conference at Hastings.
Although still criticised by art critics as a poor draughtsman , Bairnsfather had an undoubted talent for catching a political likeness. He was sent by the Daily Express to Germany and Russia to record his views on Hitler, the rise of National Socialism, and the Stalin regime. Bairnsfather was in great demand again when Britain declared war against Germany in September 1939, He produced propaganda posters, notably Walls Have Ears he produced two books entitled Old Bill Stands By and Old Bill Does It Again., Then having been spurned by his own country, Bairnsfather, who General Hamilton called The Man Who Won The War , was appointed Official War Artist to the United States Forces in America . For them he wrote two books, Jeeps and Jests and No Kiddin , and in all four publications his eye for a political caricature emerged strongly, such as his images of Churchill and Monty.
Happily this much under-valued cartoonist was recognised in the prestigious exhibition A Century of Britain s Cartoonists , which was opened at the V & A in November 1999, where he took his rightful place alongside the greats such as Giles, Illingworth and Strube et al.
Tonie & Valmai Holt are authors of In search of a Better Ole: A Biography of Captain Bruce Bairnsfather including a Listing of his Works and Collectables.