Efimov Yefimov, Boris (1900 – 2008)
Boris Efimov original cartoon artwork.
Boris Efimov grew up alongside his older brother Mikhail (who became the famous editor of Pravda, Mikhail Koltsov, arrested during the Great Purges and executed in 1940). Efimov moved to Kiev, where he studied Law. He began to draw caricatures of politicians which were published in 1919 and circulated in the Red Army. From 1920 to 1921, Efimov designed posters and brochures for Agitprop, finally moving to Moscow in 1922 after his brother, who worked as an editor for Pravda, offered him a job drawing political cartoons. He gained prominence as his work started appearing in Izvestia, Krokodil and Ogonyok, a magazine founded by his brother. The year 1924 saw the publication of his first book, Political Cartoons, which included a foreword by Leon Trotsky. During the Second World War, he became Stalin's favourite cartoonist. Following the war, Efimov was at the Nuremberg Trials in order to caricature the Nazi defendants. He was then ordered to poke fun at the Western democracies during the Cold War.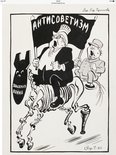 £900.00
Product Details »